Stockholm, March 1(Chinaeurope.eu) — Eric Li – a name that isn't all too well known in the global media environment but one that is well known close to home in China where he is more commonly known as Li Shufu.
Eric was born in Lu Qiao District of Taizhou in eastern China at a time when China itself was undergoing vast changes. Lu Qiao at that time was a sleepy little fishing village that had the sea to its front and mountains to its back, leaving the village to the mercy of its geography as journeys to neighbouring towns often meant deciding between going through the mountains or over the ocean.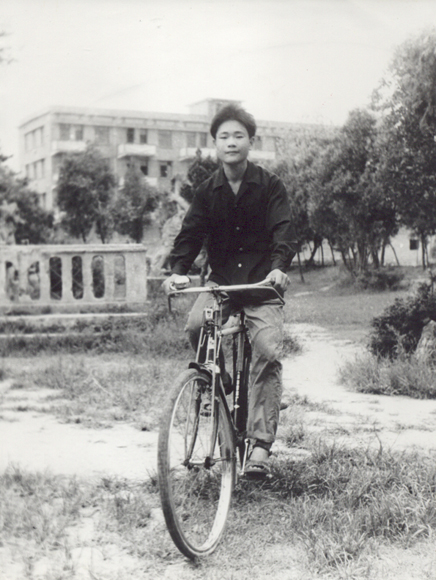 Eric and his bicycle
As a recent graduate, Eric Li borrowed 120 yuan (a rather large sum at the time) from his father to buy a camera. He then took to his bike and went village to village taking photos of villagers, who otherwise would have had to go to the nearest town's photography studio to have their photos taken. "Don't like your picture, don't have to pay for it!" became Eric's motto as he pursued perfection in his craft from early on.
But just taking photos wasn't enough. Rather than taking the undeveloped pictures to a third party, he decided to develop photos in his own studio. At this time, however, the cost of silver bromide was high; he decided to develope his own by taking apart scrap electronics and harvesting the waste materials.
It was here that a love of industry was born. As China's consumer markets began to open and demand more personal comforts for their homes, Eric began to create electrical parts for refrigerators and air conditioners. As his business rapidly expanded, he began to produce his own brand of refrigerators, among other things. In 1986 JiLi Holding Group was created to bring Eric's business activities under one entity (the company would later be given the English name Geely, an Anglicization of its Chinese name).
In the early 1980s, the main mode of transport in China was the bicycle. This soon became the  motorcycle as China's consumers once again went through a consumption upgrade. Eric looked to his experience in creating metal products and began to set up a rudimentary motorcycle production facility that looked to create sit-on style scooters rather than higher and more difficult to mount motorcycles. This would proof essential as his product offering was more accessible to skirt-wearing female riders and allowed users to carry more goods in the flat area between the rider's legs.
The motorbike business proved to be a wise investment; Eric would acquire a state-owned, but failing, motorbike factory which he invested in and helped to transition into being a popular brand. But once again, as the country continued its rapid development, consumers looked beyond motorbikes and towards cars.
At first, Eric was unable to gain a production license with the local and national governments who insisted that it was impossible (or illegal) for private companies to produce cars. Our man Eric, however, was so committed to the carmaking dream that he continued to 'research' making cars anyway, whilst at the same time looking to buy a production license. The first batch of cars was produced in 1997 and was immediately destroyed for not reaching quality control requirements. The second batch was a success and the first Geely vehicles gained official approval in 2003, as China entered into the World Trade Organization. In the first year of sales, they sold just under 10,000 units, focusing on low-cost vehicles that would help China transition from a two-wheels to a four-wheel nation.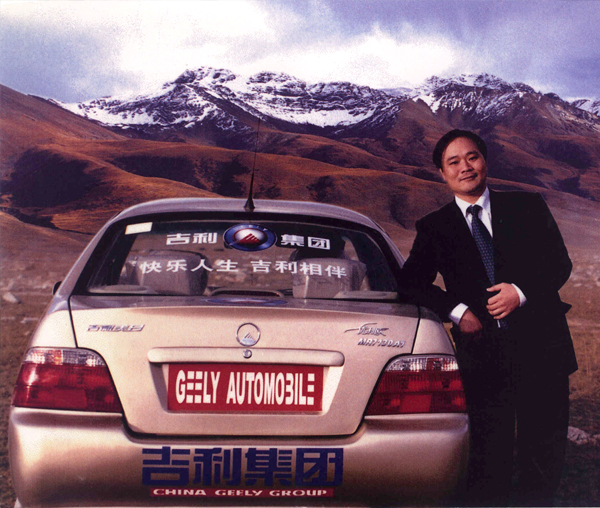 Eric with one of his earlier car models
In 2020, Geely Holding Group sold over 2.1 million vehicles globally across eight different subsidiary brands. Eric remains a key part of the global team, giving his thoughts and feedback on new products, new designs and is always eager to explore new business ideas and technologies that will improve the automotive experience as Geely transitions into being a leader in the area of electrified mobility.
Source Geely Media