By Xuefei Chen Axelsson
Stockholm, Aug. 24(ChinaEuropeDialogue or CED) — Tajikistan has vowed to play well the leading role in utilizing hydropower or the green energy.
Standing in the center of the Water Front Congress Center in Stockholm during the World Water Week, Tajikistan exhibited its leading role in development green energy.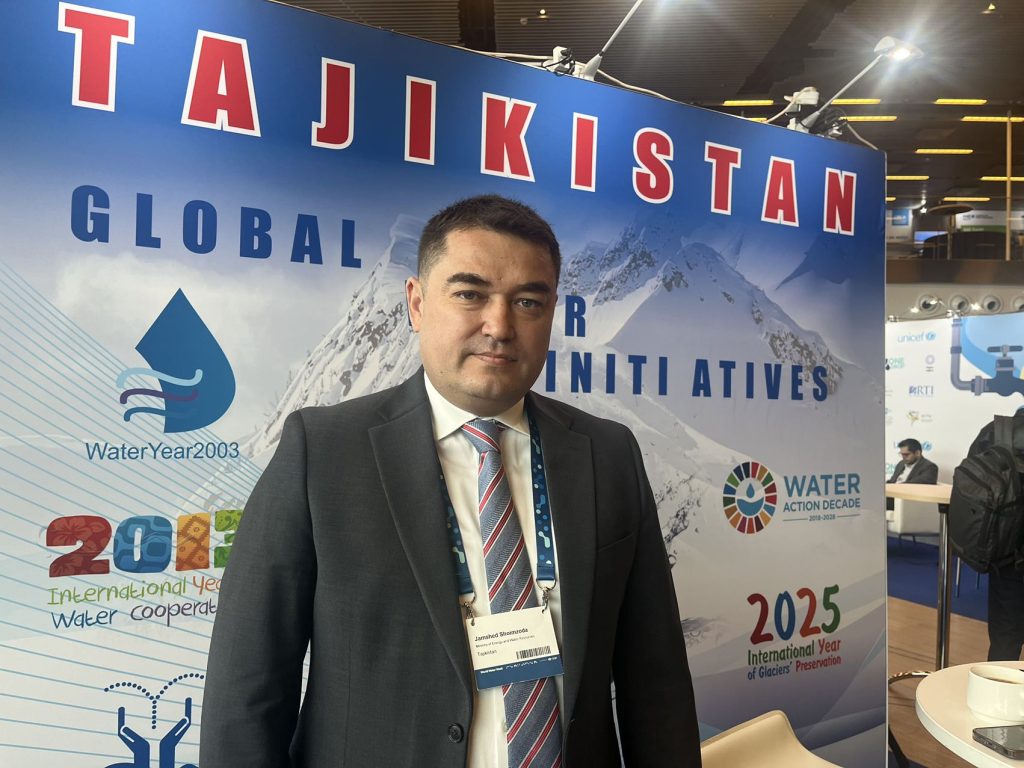 Jamshed Shoimzoda, First Deputy Minister of Energy and Water Resources of the Republic of Tajikistan has told us why Tajikistan is present at the World Water Week in Stockholm.
"During the last few years we have participated in the World Water Week because we are now one of the global leaders in water issues worldwide. And we want to bring attention to all the cities to pay attention to water issues. You might know that during the last UN Conference on Water hosted jointly by the UN, Holland and Tajikistan, I mean the UN conference was held in March this year which was a very importanta moment. It was not just as an important conference as it is, it is also beyond the conference because it is very important to continuously have action in solving water issues. That is why we are here to promote and unite all efforts and be a big part of the world in solving the challenges of the water issues." said Shoimzoda in an exclusive interview with Green Post and China-Europe Dialogue. (www.greenpost.se, www.chinaeurope.eu)
A country in Central Asia rich in water, Tajikistan borders on the North of the Kyrgyz Republic, in the east with China, in the south with Afghanistan and in the west with Uzbekistan.
High mountains and comfortable climate make Tajikistan a unique home of glaciers, consequently, of significant reserves of water and energy resources. The country occupies one of the leading positions in the world by water and energy resources.
Shoimzoda said that Tajikistan has huge reserves of hydropower resources, which are estimated at 527 billion kWh/year. 95 percent of economically viable hydropower potential is not yet exploited.
In addition to hydro, there is a considerable generation potential from wind, solar and other renewable sources.
Domestic and regional demand growth requires construction of new and rehabilitation of existing power generation capacities.
Tajikistan is surrounded by countries with a projected structural power deficit or expensive power generation, opening up attractive export opportunities.
Ensuring Energy Independence and achieving Energy Security is one of the strategic goals of the Government of the Republic of Tajikistan.
The government adopted several laws on attracting investments into the country and creation of more favorable investment environment.
Concept of Tariff Regulation, Methodology for Calculation of Electricity Tariffs are adoped. Regulatory body in energy sector is being created.
Achievement of Energy Independence was determined by the Government of the Republic of Tajikistan as one of the four strategic tasks within the framework of the National Development Strategy until 2030. In the National Development Strategy of Tajikistan up to period of 2030 were identified main indicators in energy sector as 10/10/10/10/-500, which means increasing the installed generation capacity to 10 GW, reducing technical and commercial losses in networks up to 10%, increasing electricity exports to 10 billion Kwh per year, diversification of generation sources by 10% and additional generation of more than 500 million k Wh per year from renewable energy sources and application of energy-efficient technologies.
"Tajikistan is a very mountaineous country with 95 % of the territory being mountain. Our president is general assembly regarding glaciers, Tajikistan is losing glaciers. All climate impact comes to water. We are starting to be very active at regional level, country level and world level. That is why we are here. Our potential we just used 5 percent. 95 percent is not. If we can tap out all our potential, we will cover all the consumption four times more than that in the whole central Asia."
He said if all the countries use the hydropower, there will be less emission.
And due to the usage of hydropower, Tajikistan's environment is very clean and the air quality is also very good.