By Xuefei Chen Axelsson
Stockholm, April 24. (CED) — A warmly welcomed Chinese Cultural Night was presented during Stockholm Kulturnatt on April 22, on Saturday evening for six hours. The event was hosted by China-Europe Cultural Association(CECA) and Kinesiskartister Förening i Sverige in Chinese Cultural Center .
Xuefei Chen Axelsson, President of the CECA spoke at the opening of the event.
"Founded in 2014, CECA aims at enriching Chinese womens life in Sweden, supporting the integration between Chinese and Swedish and all ethnic groups. CECA also aims at building bridge between China and Sweden as well as Europe".
CECA began to take part in Kulturnatt Stockholm in 2018 and was very successful. Then in 2022 we did a six hour show online attracting hundreds of visitors.
This year thanks to the support from Chinese Cultural Center in Stockholm, can we hold the event here in this wonderful location.
"Thanks also go to Kinesiska artisterförening and ordförande Zou Rongmei and all the artists and staff's selflish contribution, we can successfully hold this event. Our program include Spring Festival atmosphere, cookingshow, grand performance, art exhibition and film screening."
The purpose of this event is to enrich our life and support integration in Sweden. Thanks to Stockholm Stad's guidance, coordination and promotion.
"Sverige är först land som känner igen nya kina. Vi aldrig glöm det. Vi älskar hemland kina, vi också älskar andra land sverige. Vi vill gärna integrata till Sveriges samhäll. Det är varför vi deltar I den här fantastiskt natt. Å hela natten! "
Li Rui, the new director of Chinese Cultural Center in Stockholm and Cultural Coucilor of Chinese Embassy in Sweden also attended the event. She told us that the center is a platform for cultural exchange. China Cultural Night let people experience Chinese culture and life style in order to better understand China. This is a very meaningful event.
The program began with one hour to show Chinese New Year's atmosphere with Chen Axelsson as the guide.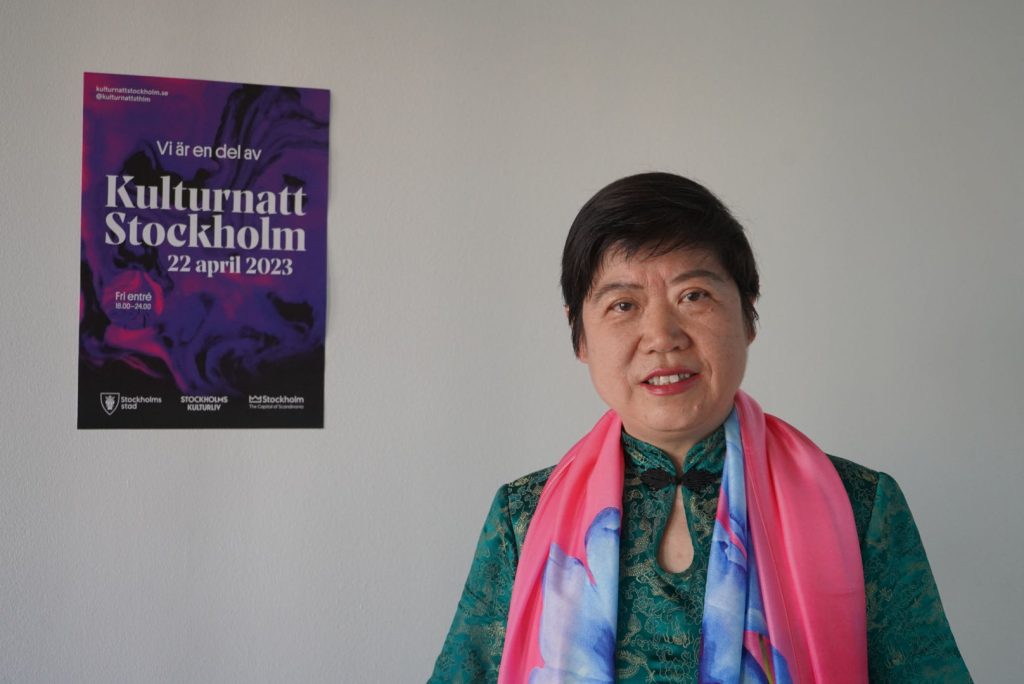 Chen Axelsson explained that Chinese culture emphasises four main factors, Qin, Qi, Su, Hua. Qin means guqin, seven string music instrument which has 3000 years history, shu means calligraphy, Hua means paintings.
During the event, a Guqin was presented there and Guzheng was played during the concert. The magnificient paining of mountain and water ink was exhibited during the event.
Axelsson said Chinese character FU has the underline meaning that a person is worry-free from food and clothes, that means happiness and blessing.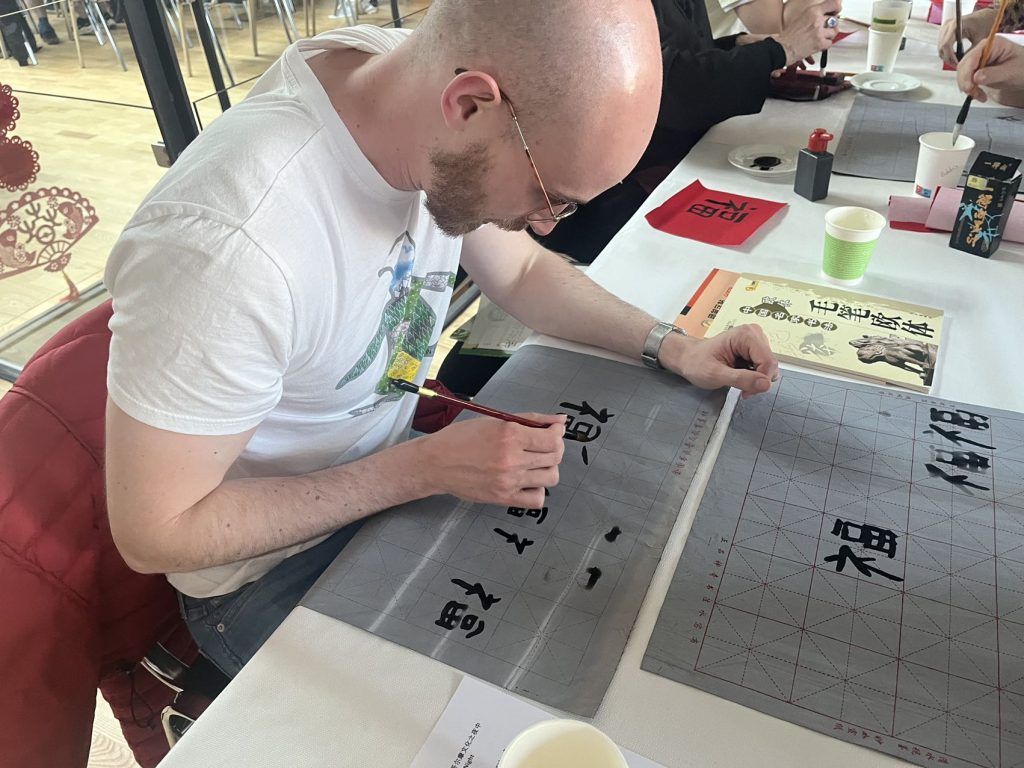 Visitors tried calligraphy and wrote the word Fu and other charactors.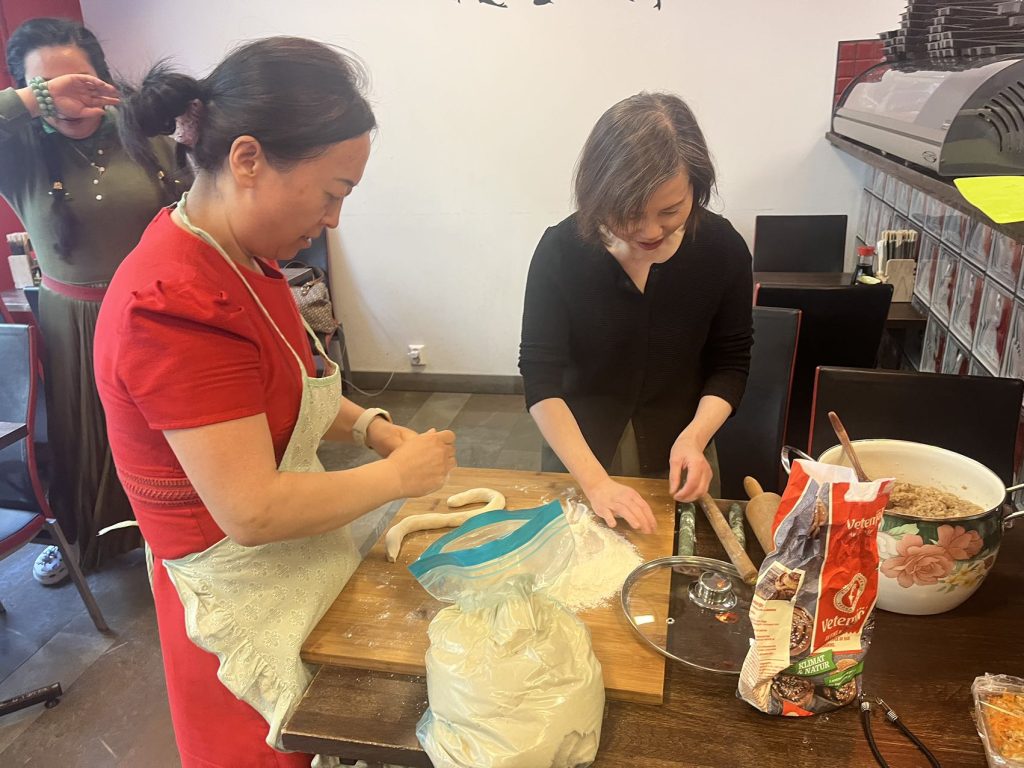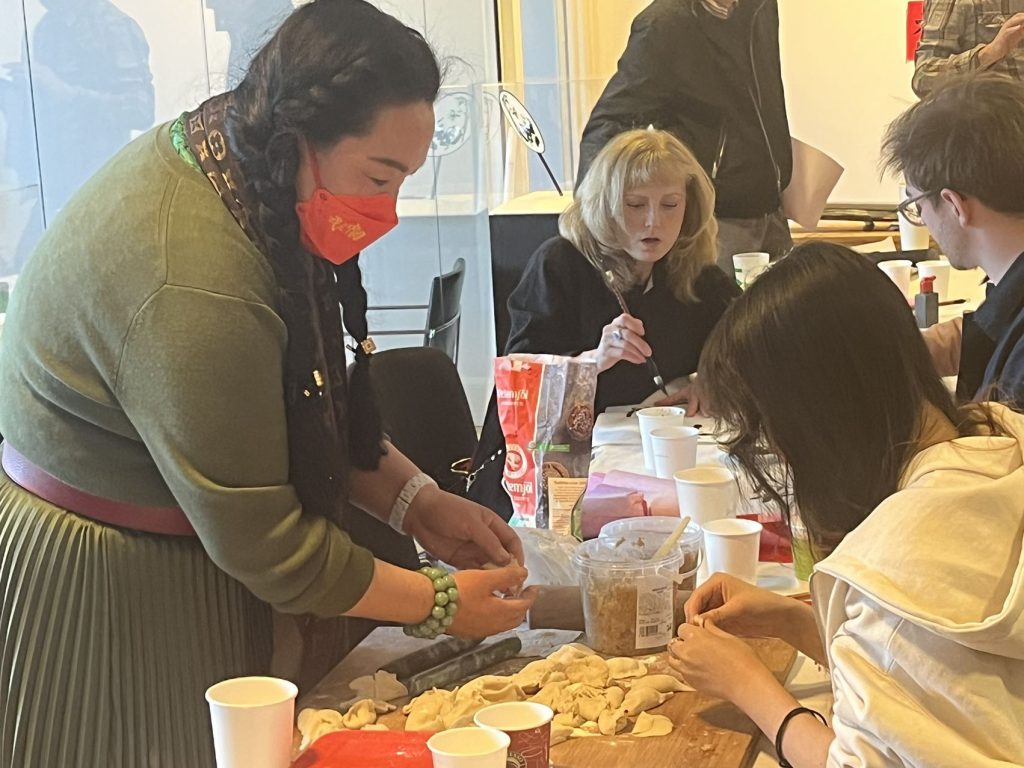 They also experienced Chinese food making such as making dumplings. People can roll the wrap and try to put the wrap and ready made fillings together.
After that, each person possibly can taste two dumplings because they made 260 dumplings.
The Chinese New Year is also a time when people put on the Fu on the door and spring festival couplets on the door frame to bring good luck to them.
Chen Axelsson also tells people why Chinese people like red color and why they like to eat dumplings because these things are healthy.
After this hour of experience of the New Year's eve, people began to watch TV programs. But here they can watch live the concert in person.
The programs include a concert with 23 people singing "meeting is a song "and "So many people in the world".
Both Chinese and Swedish can play Taiji. Hans plays Taiji. Lisa plays Taiji Fan,
Fu Xiaofang, Zhuangli and Yanhongmei sing pop songs. Lihuasong and The Moon Represents my Heart, both are very popular.
Qin Fengqiao plays Guzheng and Dong Jiajun plays Hulusi. Their music are so beautiful and impressive.
Hans and Yang Long sang love songs both in Chinese and Swedish, very emotional and sentimental! Soothing for soul!
Wu Jiangyan sang the Kunqu, selected part of Peony Pavillion. Wu is famous for her Mei School of Peking Opera singing. Very professional!
Zhou Hong led a group of women to give a Chinese traditional clothes Qipao show. Qipao is the typical Manchurian women clothes, becomes very popular among all Chinese. It shows women's fugure very well and make them look very elegant.
Finally Zou Rongmei who is famous for her soprano singing style sang an Inner Mongolian song Father's Prairie and Mother's river to express the Nostalgia of overseas Chinese.
She also sang " I love you the Northern snow, ""Jag älskar dig, Norra Snö." to welcome the coming of the Spring in Sweden or all the northern hemisphere. It is also a well-known popular song.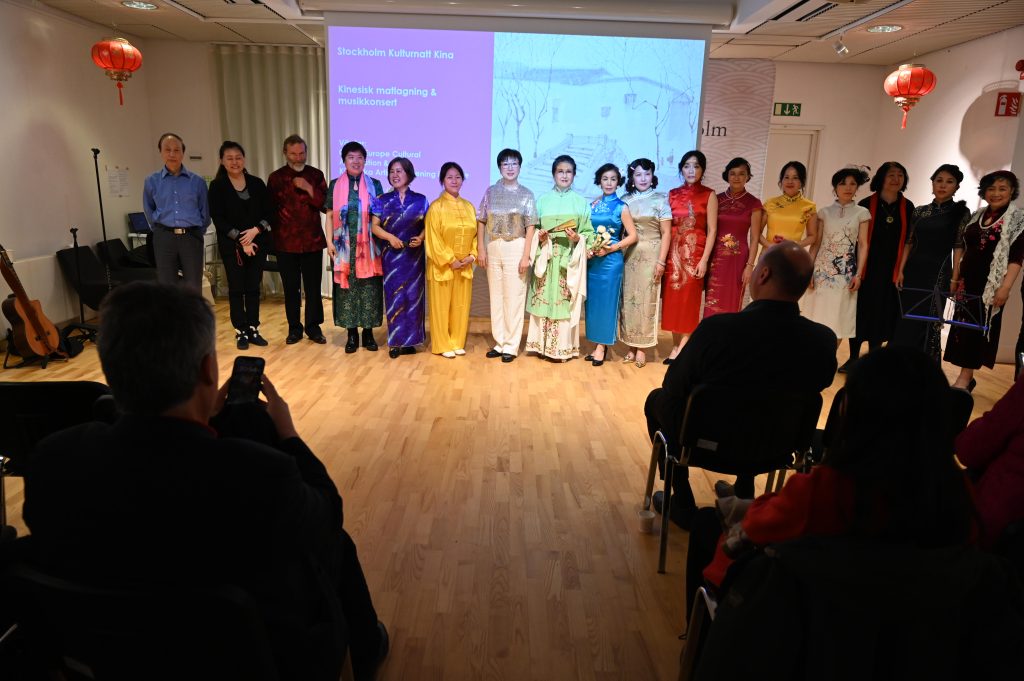 Peter (the third person from left side)helps to preside over the concert.
The performance won a lot of applauses. Many young people came to have a good experience of Chinese culture and they found actually many people can speak Chinese or want to learn Chinese.
During the cultural event, Beijing artist Li Li's work about Northern China's landscape was also presented and very impressive.
Finally the award winning film So Long My Son was screened to give a wonderful time for the audience in the end.
By the end of the midnight, nearly 500 people have visited the place and enjoy the buffet of Chinese culture.
Xuefei Chen Axelsson stressed that culture has no boundaries and can promote people's exchange of ideas and improve mutual understanding so that China-Swedish friendship can go on forever!
The event was also suppported by Greenpost.se, Chineseonline.se and chinaeurope.eu.
Photo and text by Xuefei Chen Axelsson. A few photos come from friends.