By Xuefei Chen Axelsson
Stockholm, Nov. 10(ChinaEuropeDialogue CED) — Zhang Biao, Charge d'affairs at the Chinese Embassy to Sweden made a speech at the Green Silk Road Webinar titled
A Commitment to Green Development and Mutual Benefits,
A Shared Future for All Life on Earth
Distinguished guests,
Ladies and gentlemen,
Dear friends,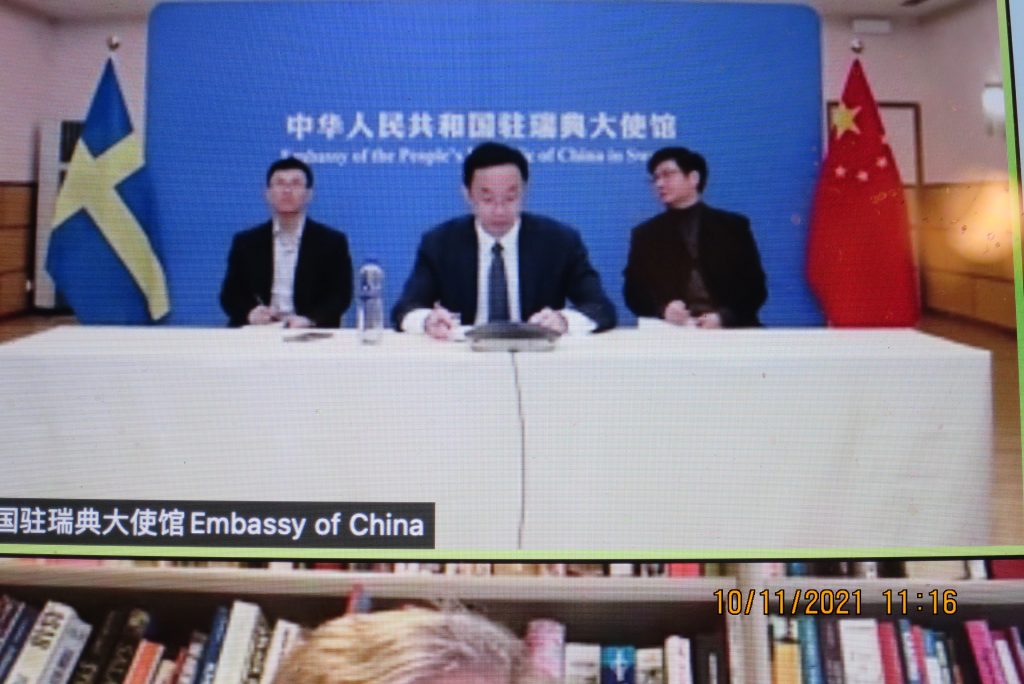 Good morning! It gives me great pleasure to join you at the webinar.
Earth is mankind's only home, and green and sustainable development is the trend. For a long time, people found it hard to keep the environment and economic growth both at once. Protecting the environment often came at a cost of growth, and vice versa. This has become clear to China as early as the 1980s, and since then China started to work for a path that allows both environment protection and economic development. Under the strong leadership of the Communist Party of China (CPC), we found a path of high quality development by constantly adjusting ourselves, one that prioritizes environmental protection and low-carbon development. Here I'd like to share three of our green philosophies with you.
First, green concepts drive sustainable development. As President Xi Jinping stressed, mankind and nature form a community of life. In this community, we must respect nature, protect it, and follow its laws. We believe "green mountains are gold mountains", and environmental protection and economic growth are mutually inclusive instead of exclusive. A well-preserved environment is valuable both ecologically and economically, which bears on the potential and stamina of economic growth. One tested-and-trusted way is to use the nature to develop "industries with regional characteristics" and promote environmentally friendly economic growth. We may also fully mobilize economic factors such as land, workforce, assets and nature through reform and innovation, to turn green mountains into gold mountains by unleashing their ecological value. In this sense, a green and low-carbon economic system that promotes a society-wide green transformation is the path to long-term sustainability.
Second, green actions speak louder than words. In his written speech to COP26, President Xi stressed that "Visions will come true only when we act on them". China announced its goals to strive for emission peaking by 2030 and carbon neutrality by 2060. In his remarks at the UN General Assembly in September, he reiterated these goals, and further announced that China will not add overseas coal-fired power projects. Recently, China released two directives: Working Guidance for Carbon Dioxide Peaking and Carbon Neutrality in Full and Faithful Implementation of the New Development Philosophy, and the Action Plan for Carbon Dioxide Peaking Before 2030. Specific implementation plans for key areas such as energy, industry, construction and transport, and for key sectors such as coal, electricity, iron and steel, and cement will be rolled out, coupled with supporting measures in terms of science and technology, carbon sink, fiscal and taxation, and financial incentives. Taken together, these measures will form a "1+N" policy framework for delivering carbon peaking and carbon neutrality, with clearly defined timetable, road map and blueprint.
In fact, China has delivered on its 2020 climate action target ahead of schedule. China's carbon intensity in 2021 was 48% lower than year 2005. The share of coal in energy portfolio dropped from 72.4% in 2005 to 56.8% in 2020, and non-fossil fuel accounts for 16% of energy consumption. China has opened the world's largest carbon market, and is working to install the world's largest nuclear power capacity. China is also accelerating wind and solar power construction in desert regions, and has started to install a capacity of 100 million kilowatts.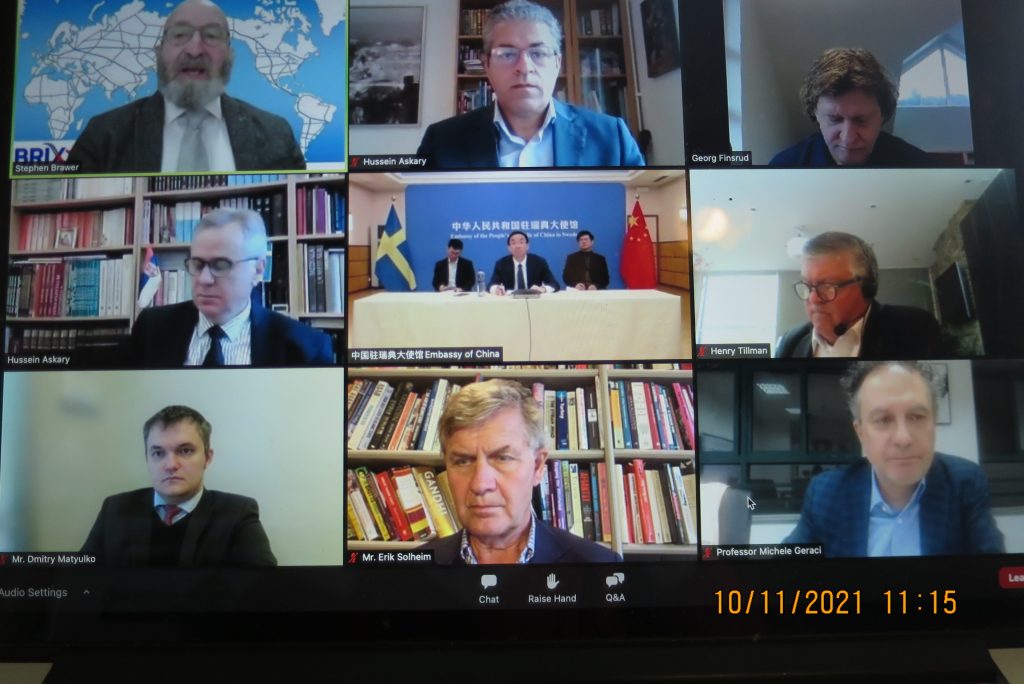 Delivering on goals of carbon peaking and carbon neutrality requires a wide and profound transformation of our society and economy, which cannot be achieved without the hardest efforts. It took developed countries 50 to 70 years to move from carbon peaking to carbon neutrality, and China is committed to taking only 30 years. The time frame China promised is far shorter than developed countries, which means China, the world's largest developing country, will achieve the world's largest carbon emission reduction in the shortest period of time, a task that will undoubtedly need our hardest efforts.
Third, green cooperation for win-win benefits. China has been fulfilling international responsibilities suited to its national conditions, by actively promoting green transition and scaling up climate actions. From remote sensing climate satellites in Africa and low-carbon pilot zones in Southeast Asia to energy conserving lights in island countries, China's climate cooperation with developing countries has yielded concrete results. China is also the biggest manufacturer of clean energy equipment. China will continue to help other developing countries to make their energy more efficient, clean and diverse, and support them in adopting green and low-carbon development methods.
Ladies and gentlemen,
Dear friends,
The Belt and Road Initiative (BRI) in the new era is a green initiative that brings new opportunities of sustainable development to participating countries. The BRI Green Partnership that China launched this year has been met with broad welcome. In 2020, the share of renewable energy investment in the total of BRI countries' investment increased from 38% in 2019 to 57% in 2020. China puts tackling climate change high on BRI's agenda, and promotes coordinated progress of improving the environment and addressing climate change, as well as between carbon removal and economic growth, to promote a green and low-carbon recovery for all BRI countries after the pandemic.
As President Xi stressed, we need to create more opportunities for the world through China's development, deepen our understanding of the development of human society and share the knowledge with the rest of the world. Many BRI developing countries are at a historical transition period, facing the choice between the environment and growth, a choice once faced by developed countries. China is willing to use the BRI as a platform to share its green development practices with other BRI countries.
Ladies and gentlemen,
Dear friends,
The green development philosophies of China and Sweden are highly compatible, which presents us with bright cooperation prospects. Sweden has rich experience in green development, and is home to a large number of innovative companies, both start-ups and big names. They provide cutting-edge technologies and solutions in areas of environmental protection, renewable energy, bio-city, environment engineering, garbage-converted energy, industrial and construction energy conservation, bio-fuel and wind power. China has a huge demand for green industries. It is predicted China's green industry will be worth 23 trillion RMB yuan or USD 3.6 trillion in 2030, and China's green financial market will grow to 100 trillion RMB yuan or USD 15.6 trillion in 2060.
China is willing to work with all other countries including Sweden on the basis of mutual respect and equality, and promote green development through innovation. China is also willing to actively expand practical cooperation on the bilateral level and with BRI countries, to energize green development in China, Sweden and elsewhere, and make contributions to the green cause of the world.
Let me conclude by wishing the webinar a great success. Thank you!
Serbian Ambassador Dragan Momcilovic to Sweden, Mr. Dmitry Matyulko, Charge d'affair of Belarus to Sweden, Pakistan Commercial Counselor to Sweden and former UNEP Executive Director, Norwegian climate official Erik Solheim and Henry Tillman from China Investment Research are among the panelists at the webinar and gave very good presentations about their view and knowledge about Belt and Road Initiative.
Stephan Brawer and Hussein Askary from BRIX hosted the webinar.