Source: Xinhua| 2021-07-31 00:05:31|Editor: huaxia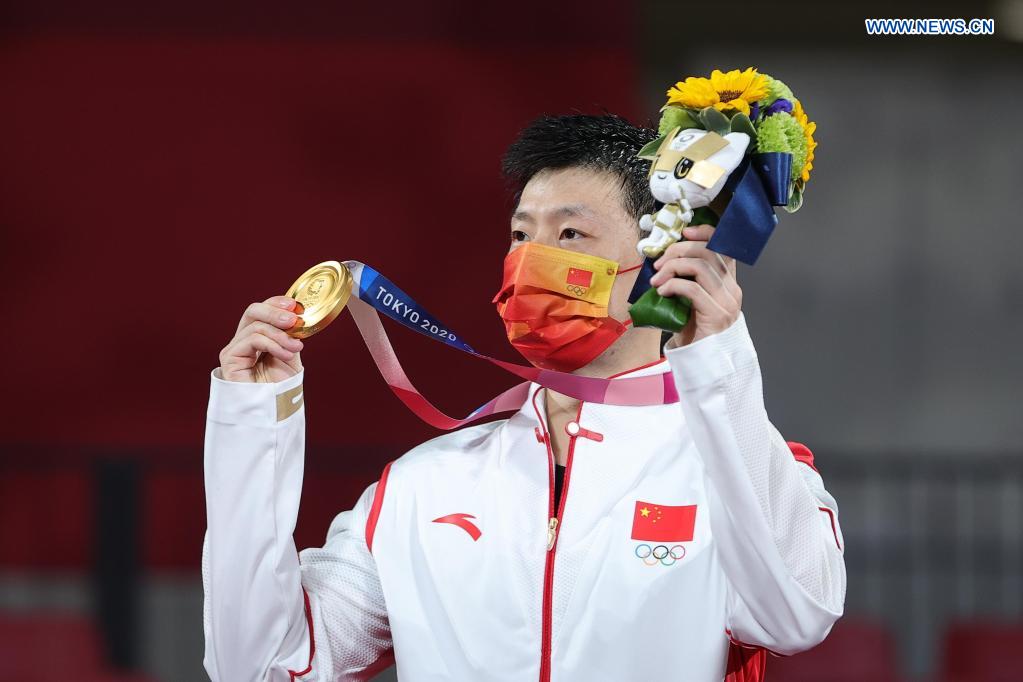 China's Ma Long kisses his gold medal during the awarding ceremony of the men's singles match of table tennis at Tokyo 2020 Olympic Games in Tokyo, Japan, July 30, 2021. (Xinhua/Wang Dongzhen)
TOKYO, July 30 (Xinhua) — Ma Long did it again. The table tennis star retained his Olympic crown in the men's singles after defeating world No. 1 Fan Zhendong 4-2 in an all-Chinese final at the Tokyo Olympic Games here on Friday.
Ma became the first male paddler to have won the Olympic gold in the singles event twice after Rio 2016, and the first man to win major titles, namely the Olympic Games, the World Championships and the World Cup, multiple times in history.
"Meeting in the final means both of us have reached our goal, and the gold medal belongs to the whole team," said Ma, attributing his win to a stable mindset of just enjoying the game against one of the world class players.
"Maybe it's the only match that I don't feel pressure," added the 32-year-old.
In their third straight encounter in major international tournaments, after the ITTF World Cup and the ITTF Finals in November last year, Ma eventually came out as the winner at the Tokyo Metropolitan Gymnasium.
Ma, who had a 15-5 head-to-head record against Fan in international competitions, hit top form quicker going into the finale, storming to an 11-4 victory in the opening set.
Fan came back into contention in the second set through his variation in returning the ball, leveling the score at 12-10.
But Ma gradually gained his ground in long rallies, bagging the follow-up two sets 11-8 and 11-9, moving further toward his second consecutive Olympic gold medal.
Fan pulled one set back 11-3 afterward. Trailing 2-3 on sets and 2-5 in the sixth set, Fan called a timeout but failed to save himself from the brink of a defeat, losing 11-7 to witness Ma retain his Olympic title.
Ma was wary about the topic of continuing his era. "First I have to keep a winning mentality. This is the most precious thing and the reason why this team offers huge support to me. I think I can continue to play and compete with those rivals," he commented.
For Olympic finalist Fan, eight years younger than Ma, a silver medal has not fully lived up to his expectation.
"I felt the whole game was in Ma's hands. I got the chance of turning it around, but failed to grasp the chance in the third and fourth sets. When he felt a bit uncomfortable in getting into this game, I didn't take the advantage in my hands," admitted Fan.
"The game is like this. Everyone spares no effort in striving for a win, but there is only one winner," he added.
In an earlier match, Germany's Dimitrij Ovtcharov bagged home a bronze medal after beating 19-year-old Lin Yun-Ju of Chinese Taipei in a seven-set thriller. Enditem