By Xuefei Chen Axelsson
Stockholm, Jan.8 (CED) — Chinese Food Festival was held in Berns in Stockholm on Sunday.
Chinese Ambassador Cui Aimin spoke at the opening ceremony after the beautiful lion dance.
"Today, we gather at Berns to experience "Tasting China on the tip of the tongue" and to feel the charm of Chinese food at the beginning of 2023. Hopefully this will open a window for appreciating the gourmet culture in China." said Ambassador Cui.
Chinese food is rich in variety, which reflects the colorful life of the Chinese people. China has a long history of thousands of years, a vast territory and abundant resources. Differences exist in climate, food materials, dietary habits and cooking methods among various regions. Over the long course of time, people not only have distinct regional differences in diet, but also have learned from each other and integrated their food styles, and gradually formed the "eight major cuisines", namely Shandong, Sichuan, Guangdong, Fujian, Jiangsu, Zhejiang, Hunan and Anhui cuisines. For every cooking material, there are many ways to cook and enjoy. The gourmet culture in different regions in China is multi-faceted and, dazzling for people to experience.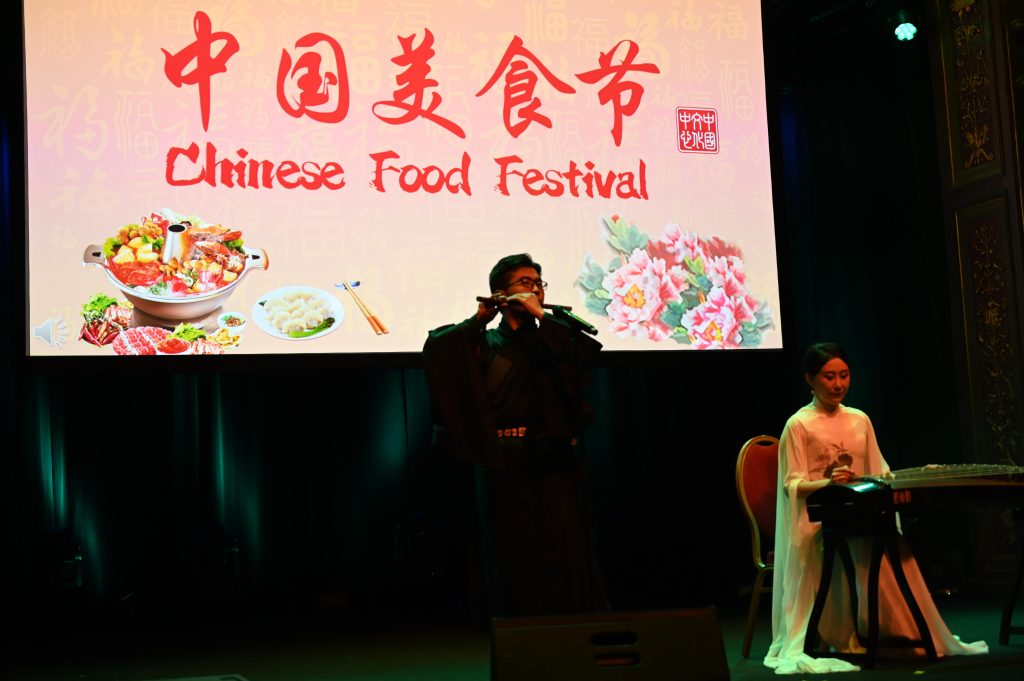 As an important part of Chinese culture, Chinese food is both practical and aesthetic. It is known for its characteristics of "rich variety in flavors, difference in four seasons, emphasis on aesthetics and taste, combination of food and medicine, and stress of moderation and harmony". It emphasizes the combination of "color, aroma, and taste", ie, good-looking, delicious, healthy, and aesthetically pleasing with artistic beauty. Chinese food expresses the Chinese philosophy of "harmony between man and nature" and the pursuit of a better life. It embodies the cultural connotation of "people-oriented, conforming to nature, and aspiration for harmony".
Chinese food is open and inclusive. It incorporates merits of other gourmet cultures. While adhering to local traditions, Chinese food has been constantly gaining foreign features, expanding the range of ingredients, seasonings and cooking techniques, and has formed the rich, harmonious, diverse but unified feature. Chinese cuisine is cosmopolitan as a result, and has become a common treasure of human culture, deeply loved by people from all over the world. Civilizations become more colorful through exchanges, and become richer through mutual learning.
Chinese food is a messenger of international cultural exchanges, enhancing the understanding and friendship between Chinese people and people around the world. Chinese food connects China with the world, and links the past with the future. It has cultural affinity and a strong appeal. It forms a natural tie for communication among people from around the world. "Food memory", as people often say, reflects the communication and resonance between food and the heart, which can transcend regional and cultural gullies. The Berns where we're today started serving Chinese food as early as the 1940s and was the first hotel in Sweden to do so. We are glad to see that the Chinese food industry now in Sweden is growing and thriving steadily, which brings local people gourmet enjoyment and conveys the friendship between the two peoples.
Chinese gourmet culture is inseparable from China's development. Today, the Chinese people have embarked on a new journey of national development and will create a better future through Chinese modernization. Chinese food will surely shine more brightly. We are ready to work with people around the world to constantly pursue a happy and wonderful life.
Today, we will taste some of the signature dishes of China's "eight major cuisines", such as chrysanthemum fish, Dongpo pork, roast duck. I hope that by tasting Chinese food, you will get better understanding of the Chinese lifestyle and Chinese culture, and have a wonderful memory. I hope today's small tangyuan which symbolizes reunion, pumpkin cakes which signifies good luck, and fried dough twist, or mahua, which implies longevity, will bring you good luck and success. I also hope you will visit China and experience in person the rich and colorful gourmet culture of China.
In about two weeks, we will celebrate the Chinese Lunar New Year, the Year of the Rabbit. In China, the Chinese Lunar New Year, or the Spring Festival, is a time to bid farewell to the old and to welcome the new. It is a time for families to gather together and share the bounty of nature and family affection. Here, I would like to invite our friends to enjoy the delicious food and extend the best wishes of the Chinese Spring Festival to all of you. I wish you and your family good health, success and happiness!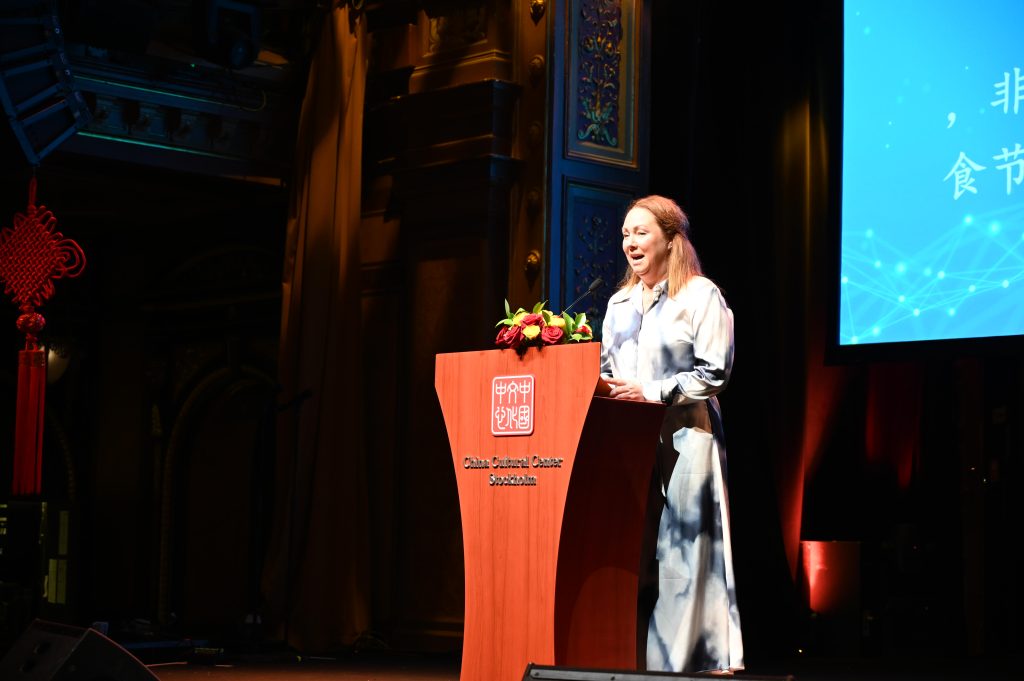 Susanne Andersson, President and CEO of Visit Sweden also congratulated the food festival.
She said food is an important part of tourism and Sweden vows to become a good destination for tourists from all over the world.
She said she was glad to attend this festival and it was very good.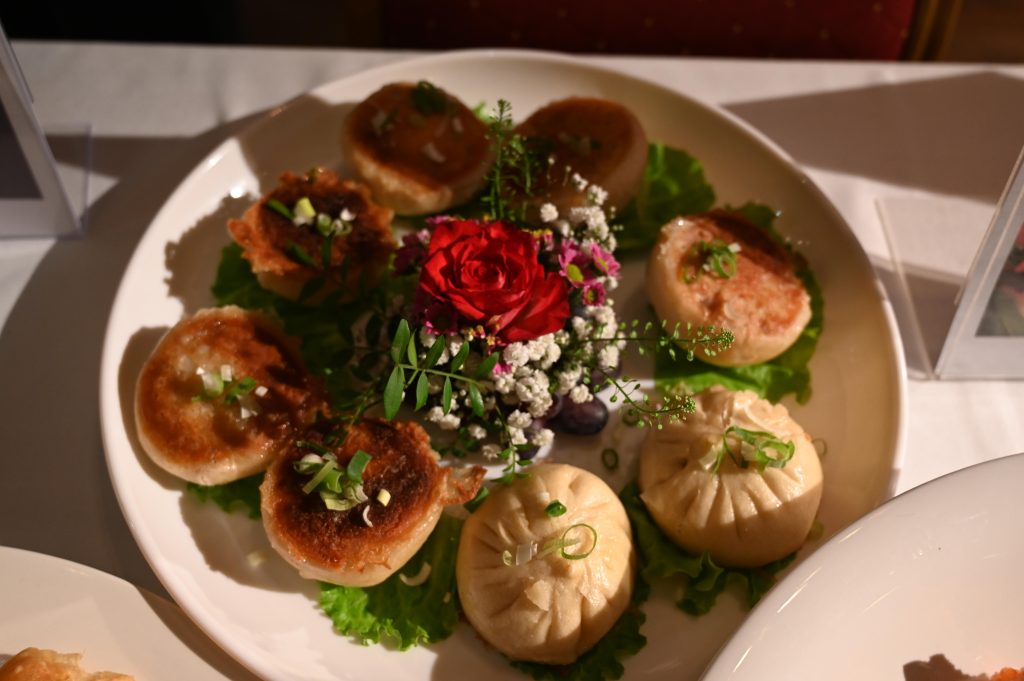 Many sinologists, Chinese learning students, scholars and lawyers attended the food festival.
It was the first time that the Chinese Embassy openly held such kind of event since the outbreak of the Covid-19 in 2020.
Many people feel happy for the occasion which was usual three years ago. It is hoped that this is a good beginning for the year 2023.
Indeed it was warmly welcomed and more people were interested in the event with the long queue.