By Xuefei Chen Axelsson
Stockholm, Nov. 2 (CED) – A warmly welcomed concert was held on October 16th in Ersta Church in Stockholm Sweden to celebrate the 150 years anniversary of Ersta Church.
The two artists are pianist Yan Shuang Lindblom, who graduated from KMH, Royal Swedish Academy of Music in Stockholm and Anders Delin, the guitarist.
They gave a concert called from Pampas to Madrid with music from Argetina and Spain with Tango style. Their performances have won warm applause and the audience said after the concert that this was the best concert they had enjoyed since 2020 after the Covid-19 became pandemic.
The concert was held in order to commemorize 150th anniversary of the founding of the Ersta Church and its founder-famous Swedish musician Per-Ulrik Stenhammar. This was one of a series of concerts held by famous singers Tommy Körberg, Erik Sunnergårdh, Charmmer Orchistra and Sundsvalls Kammarkör.
Ersta Cultural and Stage Art Supervisor Patrik Sandin who was also a singer graduated from KMH, SPPF Board member Composer Karin Hellman-Geworkian, former dean of Music department of KMH, Rolf Lindblom, Ji Zhanyou, President of Nordic Exchange Association, ECCE art director Tan Jingjing, Wan Juan and Qiu Xiaohui, Zeng Yuchen, Ormar Jaberi, Violinist Diana Parhizgar and Singer Rebecca Courtar were prominent figures for the concert and about 200 audience attended the concert.
Patrik Sadin made the opening speech to welcome the audience to attend the concert and introduced the information about other concerts. He also expressed his appreciation for the concert and sent his congratulations to the artists.
Yan Shuang Lindblom is a Chinese Pianist who lived in Sweden and graduated from the Royal College of Music in Stockholm, KMH. She used to be the judge for Savshinsky music contest in Russia and Music contest in Stockholm and educated many talented excellent Chinese music students who won the first prize in contests in Russia or in Germany.
She won British Royal Music Academy Professional Pianist Certificate. In 2003, she began to study Phd in KMH with the disertation on China-Western Piano Education's Similarities and Differences. She used to play in the Golden Concert Hall in Vienna, Sydney Opera House and the Burmingham Music Hall in Britain.
Anders Delin studied in KMH, Petiot Art College and Stockholm Music School with famous teacher Jan-Olof Eriksson, Lucia Sanchez-Jordan and Peter Berlind Carlsson. He has played in Swedish Radio for many times. He also held concerts in many places in Sweden.
From Pampas to Madrid Tango Concert opened with Anders Guittar and Yan Shuang's music Espanoleta by Gaspar Sanz (1640-1710), barrock's beautiful melody and waltz Rythme, attracked the audience immediately.
And then Anders played Maxima Diego Pujol ." Candombe en Mi. It's very beautiful.
Pianist Shuang Yan introduces 4 solo piano pieces: Astor Piazzola. "Milonga sin palabras",Alberta Ginastera. Danzas Argentinas 3 pieces för piano Op 2 and Sonata No 1 Op 22 sats 1 said: Good tango music has a bright rhythm and is suitable for dancing, while its melody is soft and beautiful, lingering and soulful. In tango, every note or phrase expresses a masculine strength. Argentine composer Alberta Gianestra has won awards in international festivals and is full of challenging skills for players to grasp phrases, breathing, expressiveness of musical markings, disparities in technique and three-dimensional playing like a symphony orchestra in fast running.
Her wonderful performance won warm applause from the Chinese and Swedish audience!
This was followed by a guitar solo Catalansk folk melody followed by a Spanish tango concerto Gittarsolo with piano:
Catalan folk songs . Video link: https://youtu.be/eWtlCrjjwkA )
Gittar och piano:
Joaquin Rodrigo. "Concierto de Arannjuez sats 2
They push the concert to a climax. The musicians have burst out with new charm with tacit cooperation. The applause in the concert hall continued to cheer one after another.
Joaquin Rodrigo. "Concierto de Arannjuez sats 2
Ktalansk folkvisa. "Arr: Miguel Liobet"
After the warm applause, the two artists played the encore.
The concert ended in a warm atmosphere. Music knows no borders, art connects people's hearts. Chinese and Swedish musicians use music to congratulate the longevity of Sino-Swedish friendship and will continue to carry out various forms of cooperation in the field of music and art. Promote the sustainable development of Sino-Swedish cultural exchanges and enhance mutual understanding between the two peoples. International cultural exchange activities which are jointly organized will surely promote cultural and artistic innovation between the two countries.
Rolf Lindblom, former head of the music department at the Royal Swedish Academy of Music, said in an interview:
The concert was very exciting, and Shuang Yan's performance was excellent and attractive! Her performance of Argentine composer Alberta Ginstera is one of the most famous composers of this century, and his student Astor Piazzola is also famous for his tango works, whose music is full of ethnic folk characteristics. Shuang Yan accurately shows the musical processing and creative style of the two composers, and the performance tone changes are rich and controlled very delicately, full of expressiveness, disparity in technique, and strong sense of melody, rhythm and structure. There is a very large audience at the concert, which will also give great encouragement to the performers!
Nu har jag varit på konsert – Från Pampas till Madrid. Mycket trevligt program
Fantastiskt bra jobbat med Aranjuez – fint spelat. Hoppas att det blir fler tillfällen att spela stycket!
Canarios spelar ni så elegant, Candombe, den spelar du också utmärkt. Du är ju numera expert på M D Pujol ́s stil och repertoar.
Professor i gitarr Jan-Olof Eriksson.
(English Translation: I have been now in the concert From Pampas to Madrid, very lovely program. Fantastic good job with Aranjuez, played very well. Hope that there will be more such situations to play this music. Canarios you played are so elegant, Candombe, you played remarkably too. You are just a good expert in MD Pujol's style and repertoar, commented Professor i Gitarr Jan Olof Eriksson).
Ji Zhanyou, president of the Nordic Association for International Exchange, said in an interview with reporters: Warm congratulations on the wonderful and successful performance! The two artists work well together, the repertoire is rich in content, loved by the Swedish people, and music knows no borders. President Shuang Yan has long cooperated and supported each other with the China-Europe International Cultural and Educational Exchange Association and the Nordic Association for International Exchange, and our association has supported CEIBS to host many sessions of the Stockholm International Arts Festival. The festival aims to continuously promote the in-depth development of Chinese culture, Eastern and Western music, traditional arts and other fields in all countries in the world, and promote international cultural exchanges between China and Sweden.
Karin Karin Hellman-Geworkian, director of the European Piano Teachers Association of SPPF in Sweden, said in an interview with reporters: The concert is full of vitality, and the music with the theme of Spanish music brings joy to the audience! The perfect combination of piano and guitar and the energetic rhythm made me feel as if the Spanish dance appeared in the concert hall and enjoyed an audiovisual feast! The final encore music echoes the whole concert from beginning to end!
(Photo 19 Swedish SPPF European Piano Teachers Association Director, piano and composer Karin. Link to interview video: https://youtu.be/_n48S___FbA )
Diana Parhizgar, violinist of the Swedish Ictus Chamber Band, said: "The piano and guitar are played very well and beautifully, and the wonderful performances of the musicians made us appreciate a musical historical music poem, thanks to the high quality of the performance. I hope to hear them play again next time!
(Photo 20 Violinist Diana Parhizgar of the Swedish Ictus Chamber Band, video link to interview: https://youtu.be/eCK3l1_DdFk)
Shuangyan's Swedish student, Åsa Eretman, attended the Södra Latin Music High School:
My name is Åsa and I am a student of Sino-Swedish with Shuangyan. I have studied piano performance for more than ten years, and today's concert is very exciting, listening to the Spanish-Argentine concert is very rewarding, and I have also performed the works of the Argentine composer Alberta Ginastera.
(Photo 21 Swedish student Åsa Eretman. Video link to interview: https://youtube/rVoXmnA9w9k )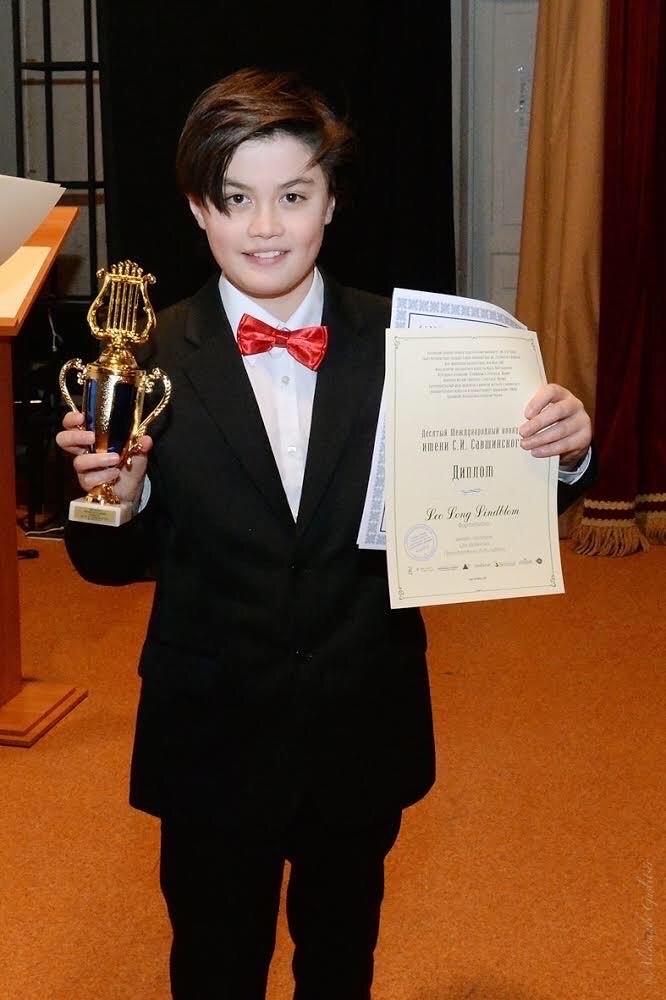 Shuang Yan's son, Leo Long Lindblom, who won the gold medal at the 2015 and 2017 Stockholm International Music Competitions, said: My name is Leo. I am a student at Viktor Rydberg Gymnasium High School in Sweden, today's concert is inspiring, I will always support and be a loyal audience of my mother's future concerts!
(Photo by Leo Long Lindblom. Video link: https://youtu.be/7vw_t9GqVgI )
Viktor Zhang won the first prize at the Stochkolm International Competition 2019 and Dennis Xu Engelska skolan i Täby:
"We are Shuang Yan's students, today's concert is inspiring, I am very happy to listen to the teacher's concert in the Ersta Church and enjoy the works of famous Spanish composers from different periods, and hope to perform the works myself in the future."
(Photo 23 Shuangyan students Viktor Zhang and Dennis Xu. Video link to interview: https://youtu.be/wQxtMyoUM8o)