By Xuefei Chen Axelsson
Stockholm, Oct. 22(ChinaEuropeDialogue-CED) — 2021 Nordic Shenzhen General Chamber of Commerce Annual Meeting was held in Stockholm on Friday.
Han Xiaodong, Economic and Commercial Cousellor made a video congratulatory remark to the meeting.
"From 2020 to now, Covid-19 has brought about huge setback to international trade and transportation. Against such background, China and Swedish trade has still seen a positive trend with one percent up compared with last year and a great potential for further increase." said Han.
"In investment, China and Sweden have seen even larger increase into each other with Swedish investment in China increased by 45%, compared with the same period from January to July of the previous year." Han said.
Han said to further improve bilateral trade and investment between China and Sweden, we need many companies including Nordic Shenzhen General Chamber of Commerce to make efforts and he wished the annual meeting a great success.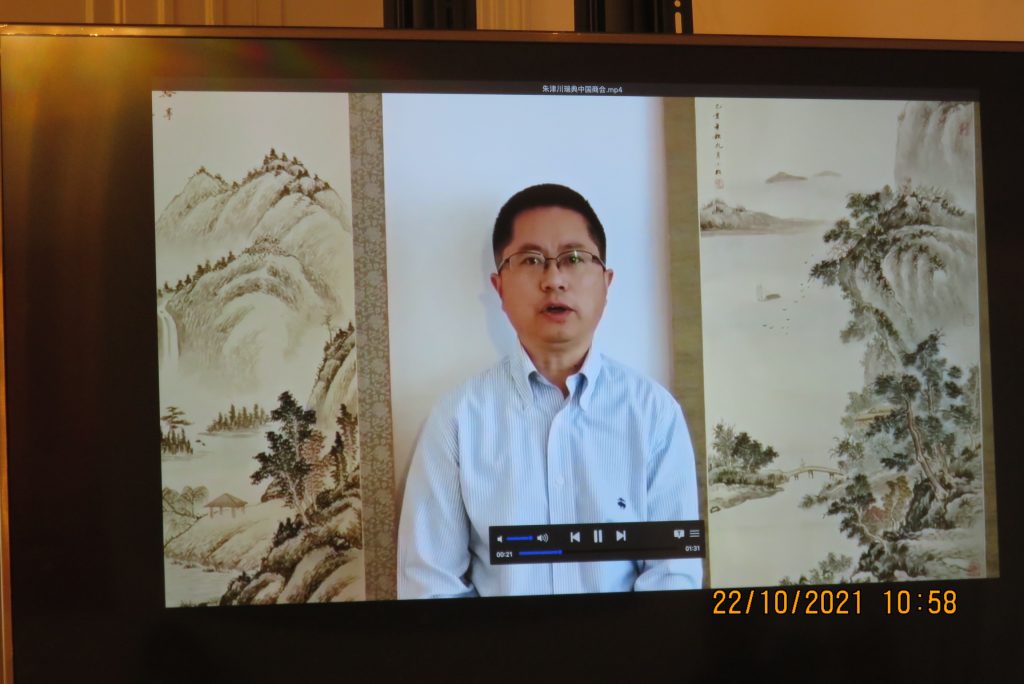 Zhu Jinchuan, CEO of Air China in Stockholm and Chairman of the Chinese Chamber of Commerce in Sweden also made a video congratulation to the annual meeting.
Zhang Qiaozhen, President of Nordic Shenzhen General Chamber of Commerce made an annual report about Nordic Shenzhen General Chamber of Commerce's work over the past year.
"Moved by many Chinese in Sweden who contributed to China's anti-covid-19 campaign, I and my company also donated a lot of masks and other protection devices against Covid-19." said Zhang.
"Further more, my company also established a new production line specially produces masks. So far we have produced 50 million masks." said Zhang, who is also President of Sweden-China Entrepreneurs Association.
She said that this meeting is also to summerize the past year work and she vowed to work harder to serve as a bridge between Sweden and China in business, culture and Science and technology.
She pointed out that they will further improve international communication and business exchange with other counterparts and companies. In addition to providing services for member companies, they also discussed how to promote business through the chamber of commerce so that the latter has a solid basis.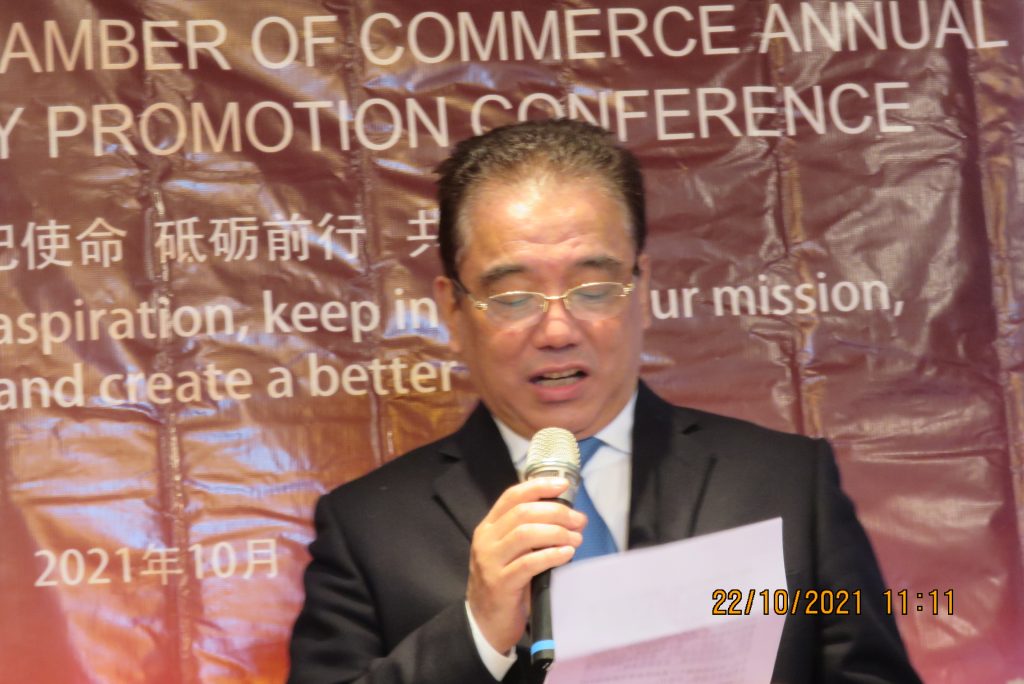 Wang Jianrong, Director of Stockholm Overseas Chinese Service Center also spoke at the meeting.
"The past two years have seen a lot of setbacks in business especially among Chinese entrepreneurs due to Covid-19, let's look forward to a better future and let's join hands to expand cooperation and mutual exchange." said Wang.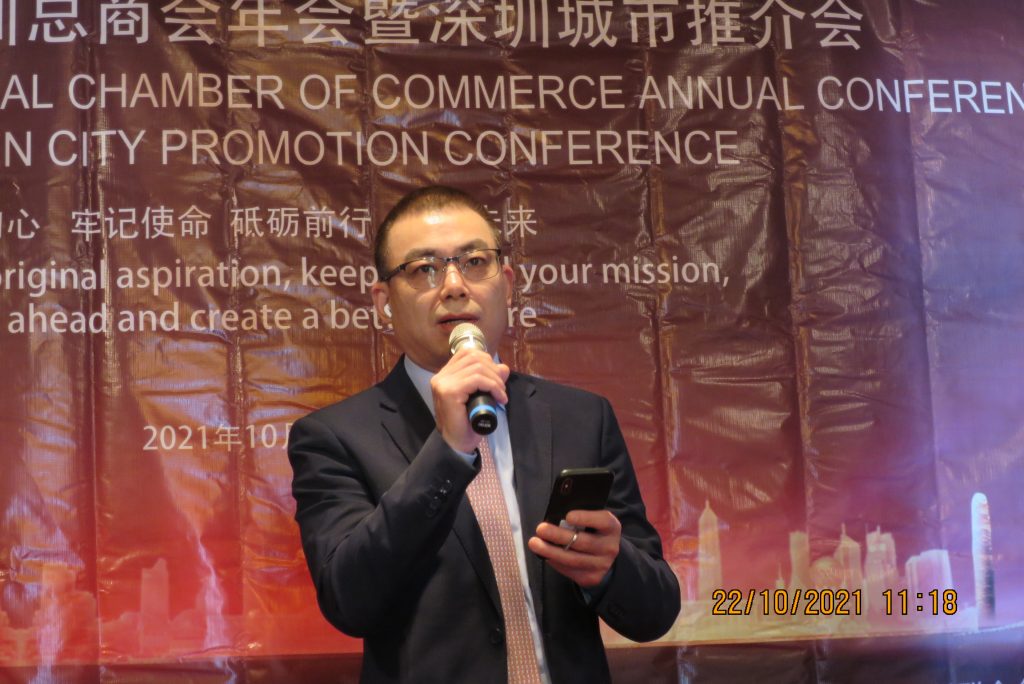 Wang Yuli, President of the Swedish Chinese Federation of Entrepreneurs also attended the meeting. He also looks forward to further cooperation among counterpart companies and organizations.
Professor Duan Maoli of Karolinska Institutet commended that Zhang Qiaozhen has been working hard and really done a lot in bridging China and Sweden.
He said he also liked to help in serving as a bridge between China and Sweden in high tech sector.
"Sweden is an innovative country and has a lot of advanced medical technologies which is worthwhile for China to import and utilize. " said Duan.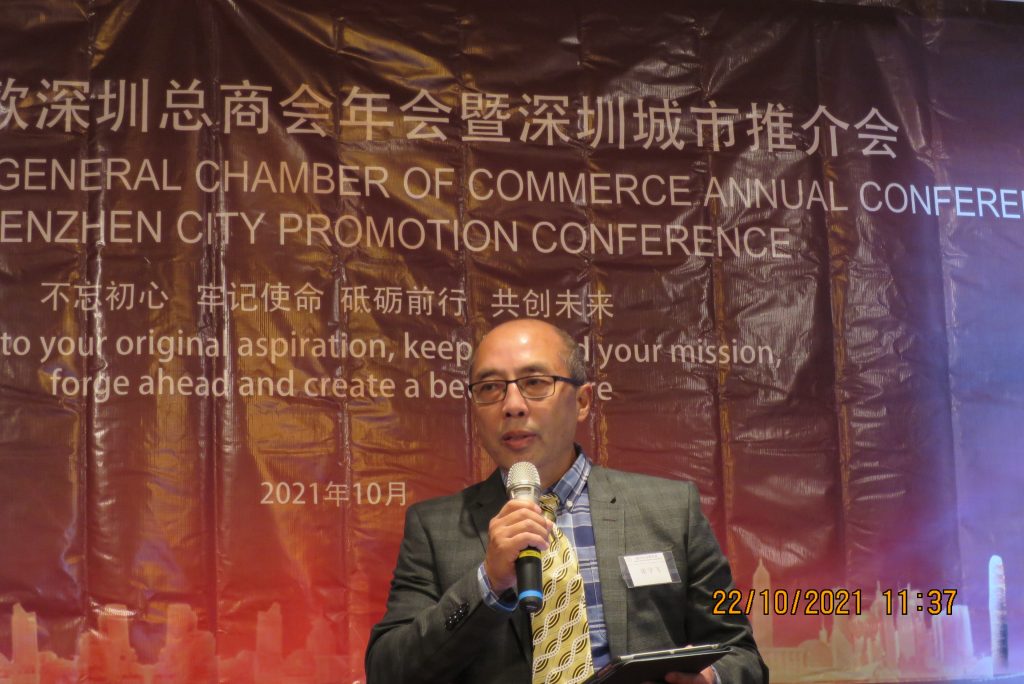 Zhang Yufei from Finland's branch also made a remark at the meeting. He also acted as the host of the meeting to preside over the meeting. He told the participants that Finland is also an advanced country which is worthwhile to develop further relations with.
Representatives from Denmark, Norway and Iceland also gave a speech. They promised that they will do their best to help improve mutual exchanges in various fields.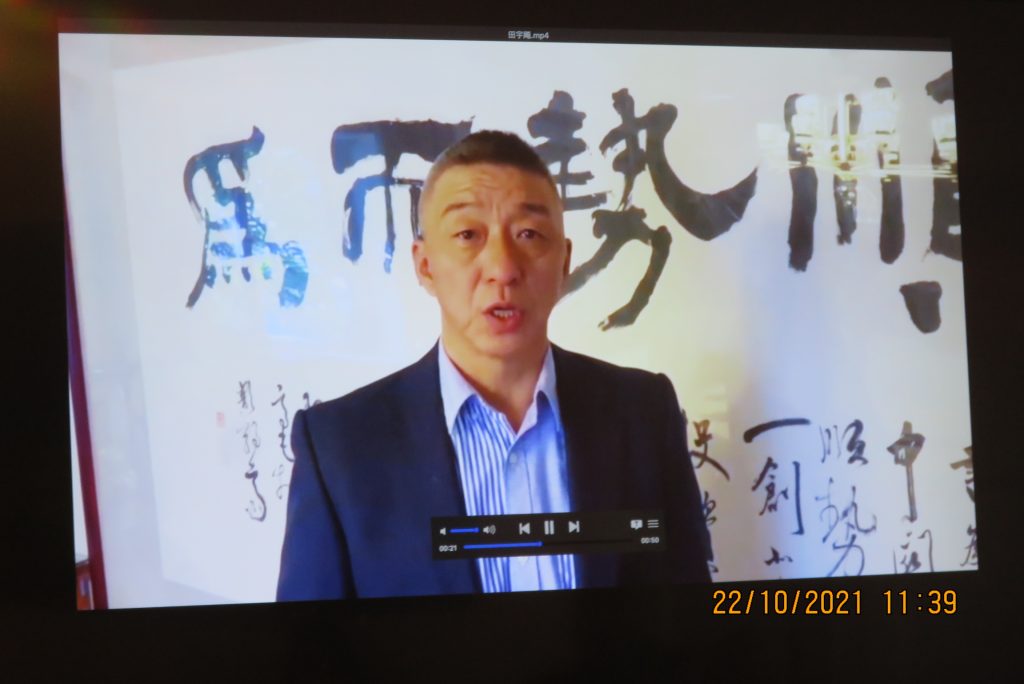 Tian Yubiao, President of China-Nordic Countries Center of Traditional Chinese Medicine(Sweden) and Beijing-Stockholm International Economic and Trade Development Service Center also sent his congratulations through video.
The Shenzhen Promotion video broadcasted at the beginning showed how Shenzhen has developed from a small village to a modern science and technology city.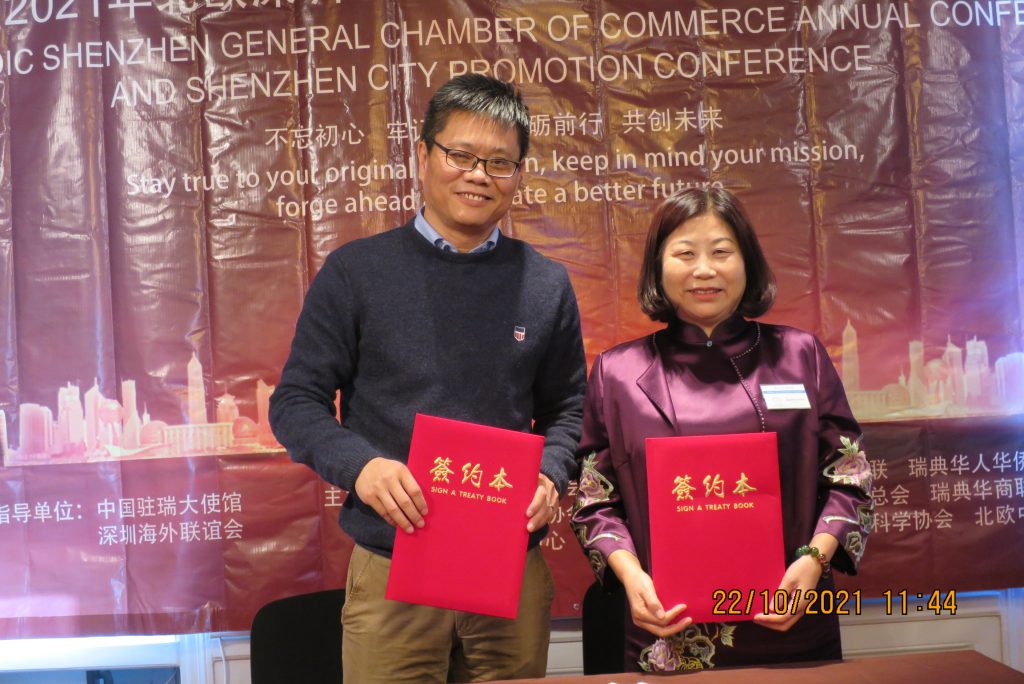 A signing ceremony of China-Sweden Industrial Docking Strategic Cooperation Agreements was also held with two MOU being signed.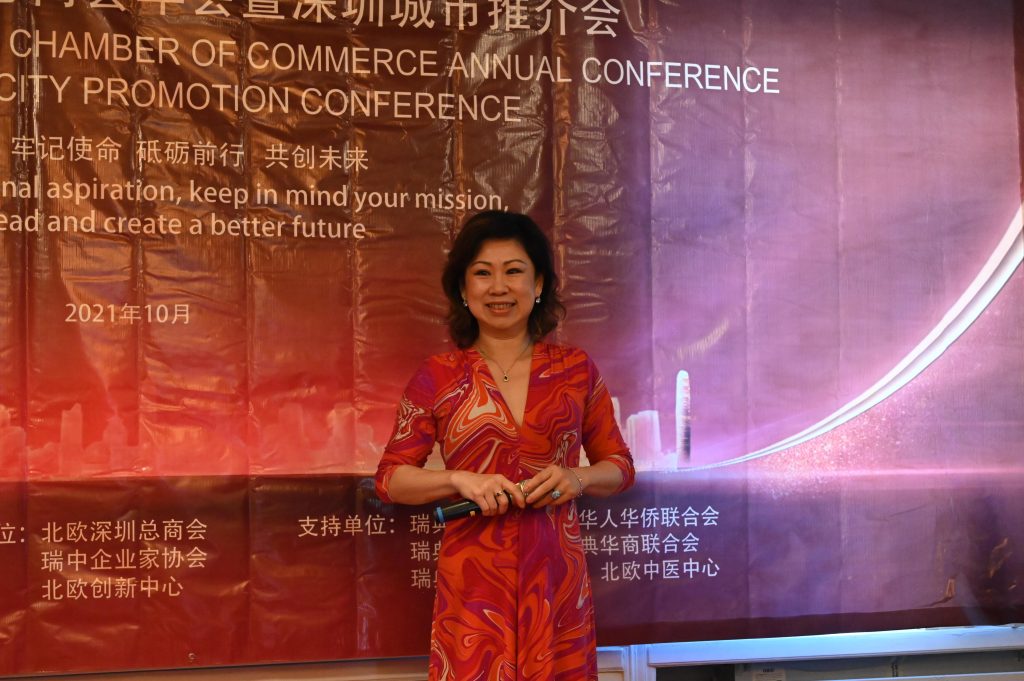 After the presentation of gifts to honorable guests, the participants also enjoyed two beautiful songs sung by Chinese singer Li Jia. "Walking towards Spring" and a lovely Xinjiang Song.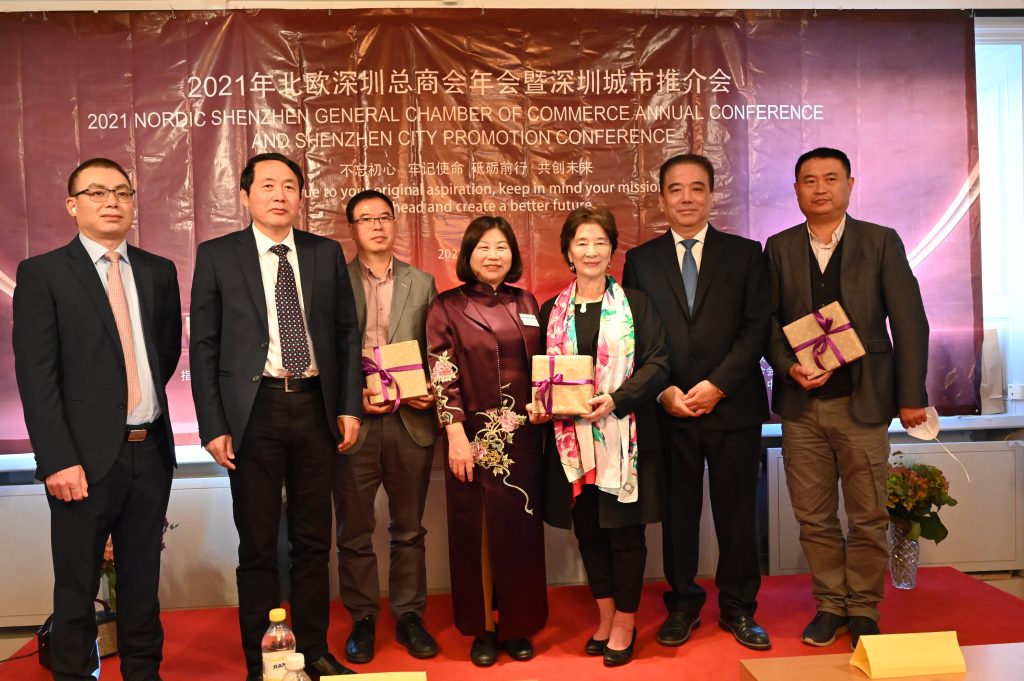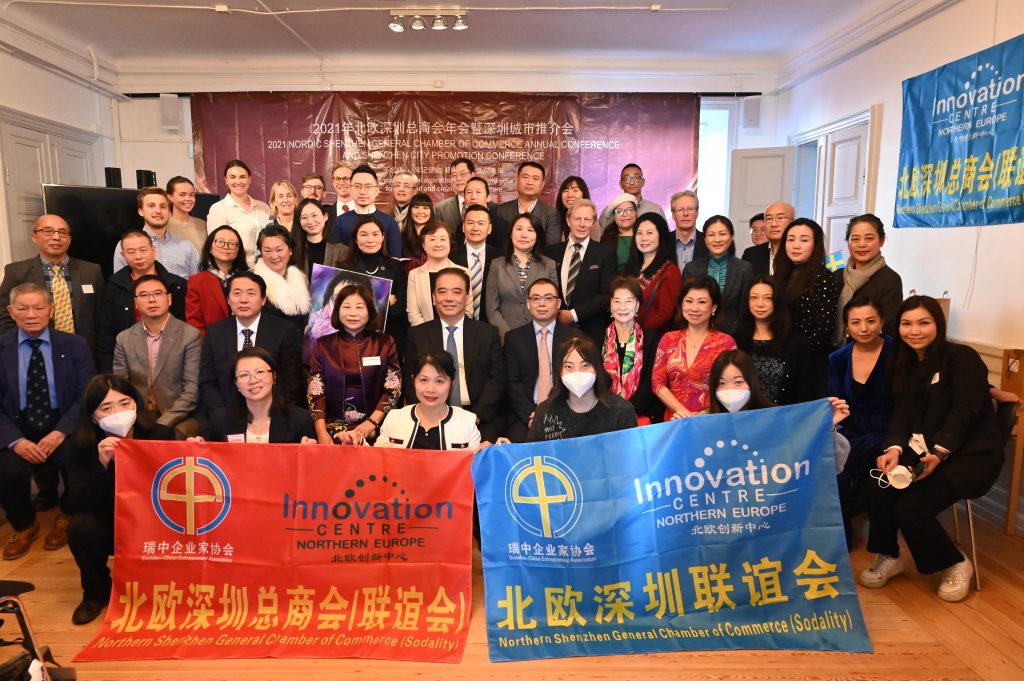 Also present at the meeting were Professor Li Jinping, Henry Bai, Xia Haidong, Fan Xiulan, Liu Fang, Tan Jidong, Cui Hanfei, Zhou Hua, Xu Tie, Li Kai, Qiu Xiaohui and many others.
A total of 200 people participated in the Stockholm meeting including more than 60 people in China participating in the meeting by watching live relay through mobile phone live broadcasting here in Stockholm and shown in a big screen in Shenzhen.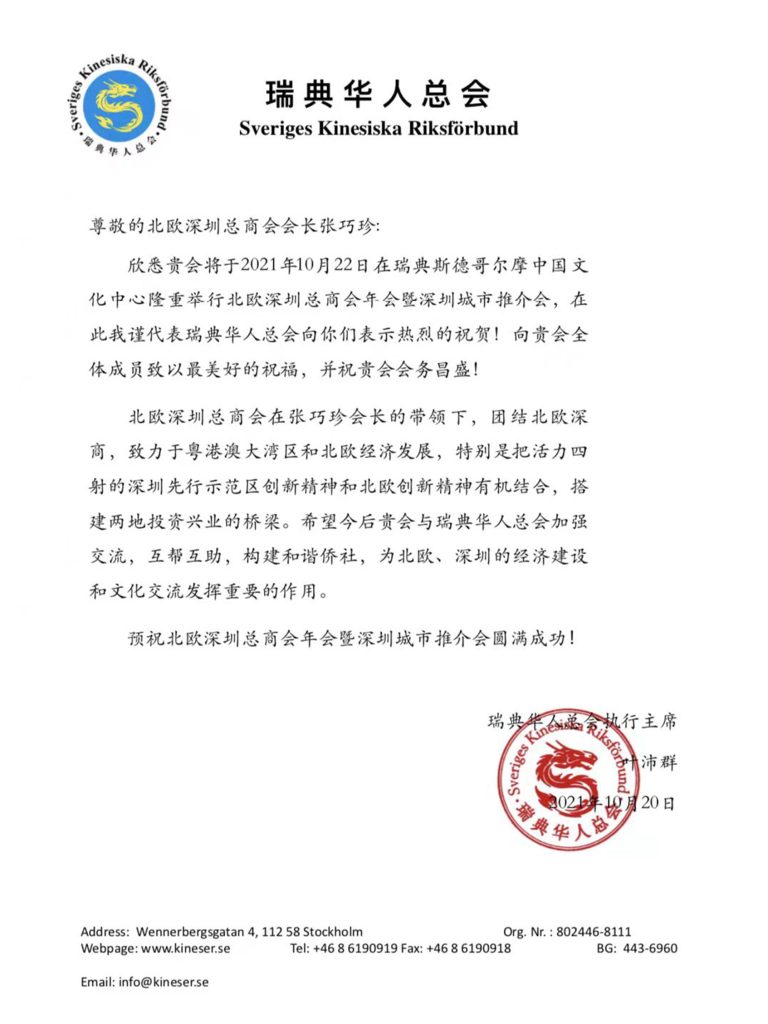 About 20 Associations or organizations from 20 countries have sent congratulations to the meeting.
This was the first larger scale meeting among Chinese and their Swedish friends in Sweden since the beginning of Covid-19 in march 2020.
After the meeting, many people feel they have been inspired and energized by the spirit of the entrepreneurs from Nordic Shenzhen General Chamber of Commerce.