By Xuefei Chen Axelsson
It was 22:00 o'clock in the evening. I was in bed and happened to look at my mobilephone. I usually left it in the living room. But that night I didn't.
Suddenly I saw a message in Guqin training circle saying Cecilia Lindqvist died. I checked the news immediately and from DN I saw the news. She passed away on September 27th, according to her daughter.
I used the phone to write a short news and published in the circle. Thinking of her for the past 15 years, tears shed out of my eyes.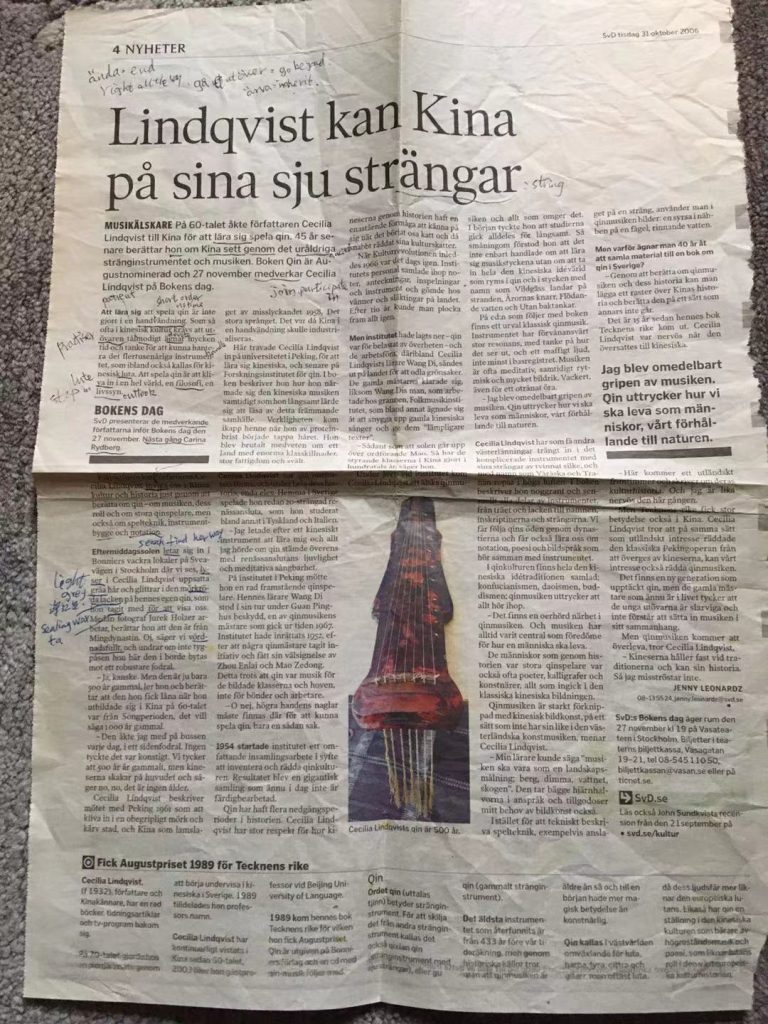 That was October 31, 2006 when I read about Cecilia in SVD. At that time I just learnt about six months Swedish. I read about her story and got to know that she was such a China fan. To be accurate, she just won her second August Prize for her second famous book Qin. she won her first August Prize for her book Tecken Rike, or the Kingdom of Characters in 1989.
I decided to have an interview with her. At that time, I just came to Sweden and still freelanced for People's Daily Online.
I made an appointment with her the next year when I already knew that I was pregnant. I took the train and bus to go to her home and found that there was bamboo in her courtyard. It seemed to me that was the sigh of China relations.
Entering inside her room, she got a sofa and a table in the middle of the room. It was like a study room, but very neat and clean. On the table laid the two books which won her two August prizes.
I wonder how she ended up in such a great achievement. She said she could play piano since she was a child and she was extremely interested in art history. She was especially interested in the archiological material published by Andersson.
In 1961, when her husband worked in Swedish Embassy in Beijing, she tried to go to Beijing too. She got a lot of recommendations including the King's letter in order to go to China.
Finally she went to Beijing University to study art history. But during her study, she found the Guqin Academy which was established with the care from Chinese late premier Zhou Enlai. Zhou did great job as establishment of Guqin Academy to recruit folk artists to collect music and make them official. He also allocate resources to save the Muqam in Xinjiang which were valued as national treasure and both kinds of music have been sent to the universe with space shuttles.
Cecilia learnt her Guqin with famous master Guan Pinghu and Wang Di. She loved Guqin and got her own qin and learnt not only how to play it and also why you play it.
In fact, Guqin music is a kind of classic Chinese music. There was a story about Guqin. A noble Yu Boya tried to play Qin every day. One day, a man named Zhong Ziqi who was a farmer just passed by. Zhong stopped and listened to Yu and commented on his playing. Yu felt Zhong had said what he exactly liked to express through the music. So they became best friends.
Later when Zhong Ziqi died, Yu never played the Qin any longer. This story told us about friendship and how difficult it is to meet someone who can totally understand you! The famous melody of Liushui or Flowing Water exactly represents such kind of emotion. When you hear the music, you will feel very emotional!
Cecilia could understand this very well. After she came back from China, she also travelled to Latin America with her son. She was also active and wrote reports back to Swedish radio or TV!
When the family all came back to Sweden, she decided to teach Chinese language to students. At the beginning it was just a few lessons and didn't count as any academic scores.
She taught the students with signs and attracted over 20 students. Then at the end of the term, she wrote a letter to the Ministry of Education and liked the course to be part of the education guidelines.
So her suggestion was passed. And more students came to study Chinese with her. After China opened up to the outside world in 1978, she immediately took her students to Beijing for a month in 1979 with subsidies from the ministry of culture.
The students enjoyed their trip in China and loved Chinese food. They got great interest in Chinese language and culture. Later most of them were active in Sino-Swedish relations in business, culture and tourism.
Then she decided to write a book based on her teaching materials. She told students vividly why a well is written as a well because at the bottom of the well there is a frame exactly looking like that.
The book was a success and won the August prize. Then she began to write the book Qin. She visited her teacher Wang Di almost every year to ask various questions about it.
It took her 15 years to finish this book. And she won the August Prize, the highest literary prize in Sweden again.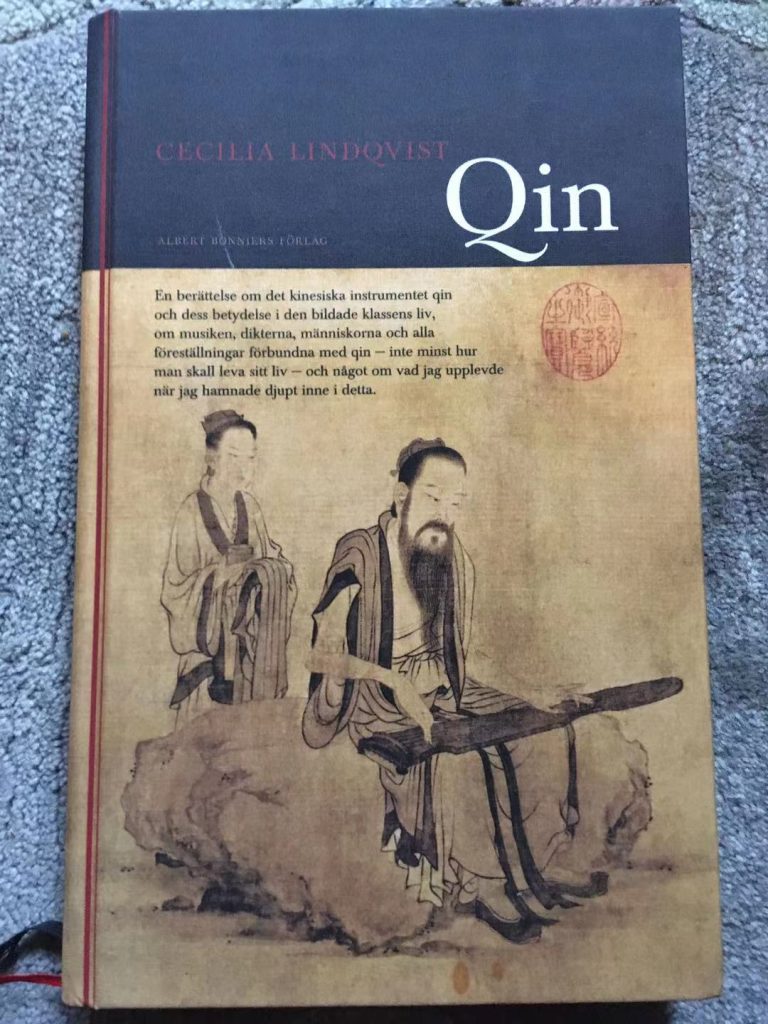 In 2007, she invited Wang Di's daughter Deng Hong who plays Qin and Chen Shasha plays Xiao to got a performance tour in Sweden, Norway and Denmark. It was a great success.
She did the naration part herself on the stage about Qin. When she introduced her experience in China, she said it vividly. She said she went to China for the last time and like to meet Wang Di, her teacher for some last questions, but she was told that Wang Di was in hospital and not suitable to see her. She was so disappointed and cried to go back to hotel. But soon, she got the phone call from Deng Hong that she could come.
She went to hospital to meet Wang Di who laid on bed and asked all the questions. In the end, she said, "is it all you questions answered? do you have any other questions?" Cecilia said she didn't have any more questions.
She came back to Sweden happily. But soon she got the news that Wang Di had died. As she described this, tears fell out of her eyes. All the audience were so moved by her story and her way of telling the story.
Deng Hong and Chen Shasha's performance were also excellent. After the first round, in 2011, they did a second round.
She mentioned that she wanted to have a third round, but couldn't make it. When I first met her in 2006, she was already 75 years old. It was already great!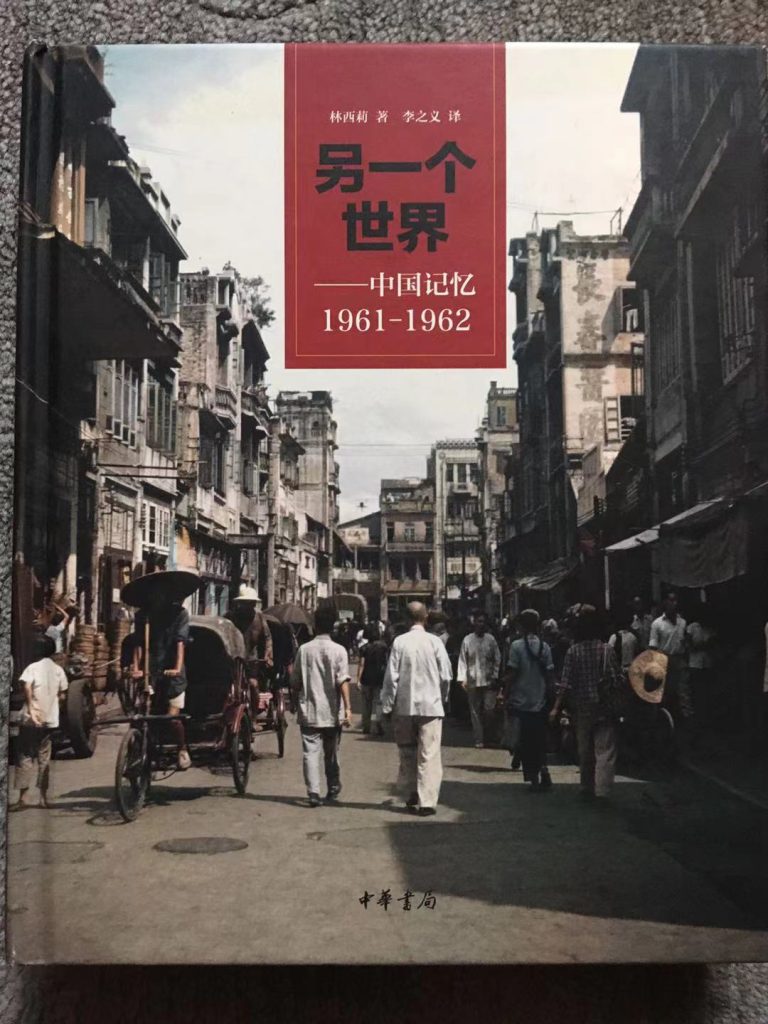 But she actually wrote another book, An Annan Värld, An Another World describing with photos about China in 1961 and 1962.
At that time, the camera was a luxury and she got to have it to take a lot of pictures. With her pictures and diaries, she wrote the book.
She also liked to write another book about her collection of Chinese papper cutting, but she couldn't manage that.
The last time I met her was when she came to attend the Guqin training class at the end of 2018 when Deng Hong came over as a teacher.
The course attracted a lot of Chinese in Sweden and some Swedish too.
Cecilia Lindqvist was very nice and always had a goal. She was persistent and keen on Chinese culture. She said Chinese culture is a sustainable culture. She really loved it and felt glad to study it.
I called her a Diplomat or messenger in promoting Chinese culture in Sweden and the world.
Professor Teng Jimeng in Beijing Foreign Studies University said he sometimes use Cecilia's book the Kingdom of Characters to teach his students and his American counterparts also used that book to teach Chinese.
Her book used to be on top chart and still selling in Amazon.
She swam a lot to train herself. She lived in the second floor in order to train her body. With her strong will and persistent spirit, she lived for 89 years old. She set a good example for us to be a strong person in life and to live a meaningful life!
May you rest in peace and you live in our heart forever!