By Xuefei Chen Axelsson
Stockholm, June 24(ChinaEuropeDialogue CED) — Sino – Swedish Covid-19 seminar has successfully been held in Beijing (15.00 pm) and Stockholm.
It was co-organized on June 10th this month by the Chinese Society of Traditional Chinese Medicine (TCM) and the China International Science and Technology Exchange Center, and Karolinska Institutet, the Swedish Society of Traditional Chinese Medicine and the Academic Research Association of Acupuncture and Moxibustion.
Professor Zhang Hongchun, Director of the Department of Traditional Chinese Medicine at the China-Japan Friendship Hospital, and Professor Cao Yihai from Karolinska Institutet, who is also the foreign Academician of the Chinese Academy of Engineering, jointly hosted the seminar.
Three top-level experts of TCM from China who have been working against Covid-19 and four experts from Sweden participated in the online seminar. They are Professor Tong Xiaolin, Academician of the Chinese Academy of Sciences and Chief Researcher and Academician of the Chinese Academy of Engineering as well as Dean of the Chinese Academy of Chinese Medical Sciences; Professor Huang Luqi, Deputy of the National TCM Clinical Treatment Expert Group Team leader; Liu Qingquan, Dean of Beijing Hospital of TCM; Professor Cao Yihai from MTC Department of Karolinska Institute and Professor Laszlo Szekely working in clinical pathology at Karolinska Institute; and President Yang Chungui and Vice President Zhang Dongqing from the Swedish Society of Traditional Chinese Medicine (TCM) and Acupuncture Academic Research Association who have been working in TCM and acupuncture for around 35 years.
The seminar started with a speech on "Classical Wisdom and Modern Diseases" by Tong Xiaolin, followed by Huang Luqi "Revelation of Covid-19 Related Drug Development for the Development of New Chinese Medicines" to discuss the research and clinical test of Chinese herbal medicine such as 'Huashi Baidu Granule' in clinical treatment against Covid-19 in China.
Professor Cao Yihai focused on the use of the latest medical technology and principles of using "Blocking VEGF to treat severe Covid-19 patients" in Swedish hospitals. Laszlo Szekely used a lot of pictures to show the pathological changes of acute respiratory distress syndrome caused by the Covid-19, allowing all participants witness the severe damage to human organs by the corona. Three TCM experts who have over 30 years clinical experiences gave speeches respectively later. Liu Qingquan gave his speech of "Clinical Research of Traditional Chinese Medicine against Covid-19" to expand ideas of Covid-19 clinical treatment to all TCM practitioners. In 2002, when SARS broke out in southern China, Professor Liu was in charge of anti- SARS in the hospital. With rich anti-epidemic experience accumulated, Liu led the medical team working in Wuhan when the Covid-19 just broke out early in 2020, and he was also director of the Fangcang Shelter Hospital of Wuhan.
The Covid-19 is a plague that Sweden has not encountered for nearly one hundred years. At the beginning, the Swedish medical system had little experience in responding to the pandemic. At that time, many patients had no medicine to cure or nowhere to go.
President Yang Chungui of Swedish Society of TCM, organized the team of anti-epidemic TCM experts in Sweden to contact Chinese anti-epidemic experts and to learn China's anti-epidemic experiences since March of 2020. All members of Swedish Society of TCM listened to online anti-pandemic lectures for ten times in the first half of the year delivering by Professor Zhong Nanshan, Zhang Boli, Huang Luqi, Tong Xiaolin and Liu Qingquan.
In April 2020, President Yang Chungui organized two lectures in Sweden, in which the Chief Physician of the Swedish Society of TCM, Zhang Dongqing and Zhang Chenrui, delivered online lectures of treatment using TCM methods based on China's principle of TCM 'San fang and san yao – Three prescriptions and three compound herbs'.
More than 500 Chinese and Swedish citizens participated in those lectures. In fighting against the epidemic since last year, all members of Swedish Society of TCM learned China's anti-epidemic experiences and applied the treatment methods to cope with the problems Swedish patients encountered and reduced the symptoms of the patients.
By the end of last year, the physicians of the Swedish Society of TCM had treated more than 3,500 confirmed or suspected patients of Covid-19 using TCM herbs and acupuncture methods. Almost all patients had recovered.
President Yang Chungui's speech at the seminar was titled "Learning from the Clinical Experience of China's Experts against Covid-19". He reported in what way all members of Swedish Society of TCM learned China's anti-pandemic experiences and applied those methods from Chinese experts to treat patients in Sweden.
President Yang took three cases of the diagnosed Covid-19 patients as examples, analysed the treatment process to the patients with Chinese medicine.
He discussed the successful cases from theory of TCM to practice, and analysed how to add two, three or more herbs based on the Huashi Baidu Granule as the basic prescription to treat patients. After taking the Huashi Baidu Granule for 2-3 days, the symptoms of some of his patients from with 39 degree body temperature and severe cough to moderate. These patients took the medicine continuously for one week or longer, and many recovered eventually.
Three diagnosed Swedish patients with Covid-19 talked about their own experience of taking Chinese medicine prescribed by Dr. Yang and the clinical treatment efficacy after taking for three days and one week. They expressed with their vivid words to verify the effectiveness of Chinese medicine in fighting against Covid-19.
The pandemic has gradually stabilized now in Sweden with the injection of the Covid-19 vaccine. However, the sequelae of the Covid-19 has become a social health problem in Sweden. The Swedish National Welfare and Health Commission 'Socialstyrlsen' recommends that the rehabilitation of the sequelae of Covid-19 should be consisting of multidisciplinary, including physical therapy.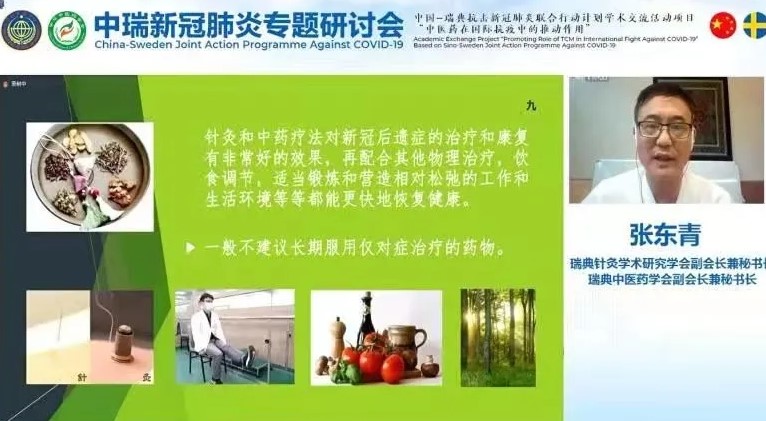 The Chief Physician Zhang Dongqing, the Vice President of the Swedish Society of TCM and Acupuncture Academic Research Association, gave his speech in the seminar of "Clinical Experience in Acupuncture Treatment to the Sequelae of Covid-19", the acupuncture treatment which he has been using for the recent 8-9 months. He listed 10 typical symptoms of the sequelae of Covid-19, and analysed the reasons causing these symptoms from Western Medicine and TCM respectively, and reported the remarkable clinical efficacy by adopting acupuncture and TCM herbs in promoting the recovery of patients with the sequelae of Covid-19.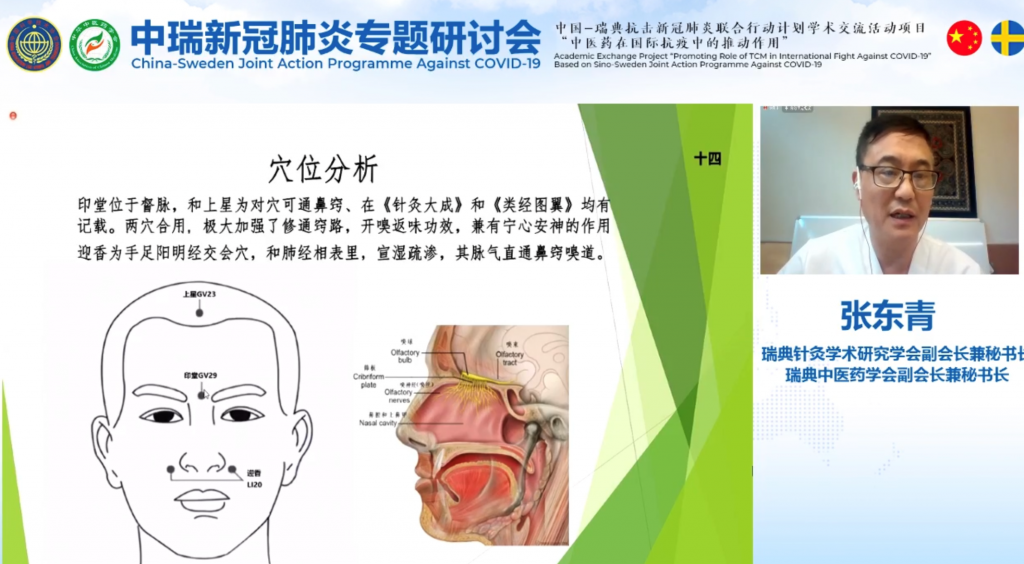 Dr. Zhang discussed the use of several specific acupuncture points in acupuncture therapy to improve the recovery of smell and taste, and proposed for the first time of pathological damage of olfactory roads caused by dampness.
The seminar lasted for three and a half hours. Nearly 50 experts from the Chinese Association of Science and Technology, the Chinese Academy of Chinese Medical Sciences, the Chinese Academy of Chinese Medicine, and the experts specialized in emergency and pulmonary disease participated in the seminar in Beijing offline, and around 2000 audiences in Sweden participated in it online.
The high-level speeches delivered by seven experts and professors both in TCM and Western Medicine attracted attention and won praise of the audiences. A text message sending from an audience in Sweden said: 'The seminar is wonderful with such a high level. We overseas Chinese audiences are lucky to have had such a good opportunity to learn TCM knowledge especially against the Covid-19!'
The success of this Sino-Swedish Covid-19 seminar, was a part of the joint seminars of the 'China-Sweden Action Against Covid-19' initiated by the Chinese Association of Science and Technology.
The Swedish Society of TCM and the Acupuncture Academic Research Association will continuously contact and communicate with the Chinese Society of Traditional Chinese Medicine, to improve our academic level of Chinese medicine. We will provide services for all TCM and acupuncture practitioners in Sweden, and provide services for the health of Swedes and overseas Chinese those are living in Sweden.
Reported by the Secretariat of the Swedish Society of Traditional Chinese Medicine and the Swedish Acupuncture Research Association,translated by Zhang Chenrui June 11, 2021
Edited by Xuefei Chen Axelsson